BUENA VISTA LAKE, Florida – Two training sessions passed as some of the nation's best players prepared for the Under Armor All-America Game. The roster is packed with high-level potential customers, but many of them are hoping to raise their rank when the latest Rivals250 update is released in late January.
Here's a position-by-position look at how the Under Armor All-Americans have performed so far.
MORE THROUGHOUT AMERICA: The awards on Thursday | Stock on the rise | Conclusions from the opening practice | Latest news on Under Armor All-America | Skill Players 1 on 1 Video | Video of OL vs DL | Feature of Tomorrow Jackson | Javontae Barnes discusses the finalists | Mathews cuts down the best schools
*****
RANKING CLASS 2022: Rivals250 | Location | Team | State | JUCO
RANKING CLASS 2023: Rivals250 | Location | Team | State
TRANSFER PORTAL: Stories / coverage | Notice board
RIVALS CAMP SERIES: Info / coverage on the 2021 camp series
*****
DEFENSIVE LINES
The hype of Walter Nolen (Texas A&M) is real. He's proving his fans right and his doubters wrong. Future Texas A&M Aggie is playing with more energy and more motivation than any other Orlando player. For Nolen to stand out in a group of defensive super talents is truly a credit to him and the way he has approached this week.
After Nolen, the main players on the defensive line so far have been five-star defensive tackle mates Bear Alexander (Georgia), Shemar Stewart and Derrick Moore (Michigan). Anthony Lucas (Texas A&M) has had a mixed week so far, but it's clear he has supreme talent. Marquis Gracial (Missouri) and Kenyatta Jackson (Ohio State) turned heads while Justice Finkley (Texas), Jeremiah Alexander (Alabama), Omari Abor and Popeye Williams (Louisville) flashed in various places.
Jaray Bledsoe (Texas), Tyreese Fearbry (Kentucky), Ernest Cooper (Stanford), Malick Sylla (Texas A&M) and Jaheim Oatis (Alabama) have great potential and it's easy to see why they are so popular. They certainly fit the level of talent on the pitch. Five-star Travis Shaw (North Carolina) did not participate on Thursday, but it was nice to see how the massive defensive tackle moved during Wednesday's practice.
*****
DEFENSIVE BACKRESTS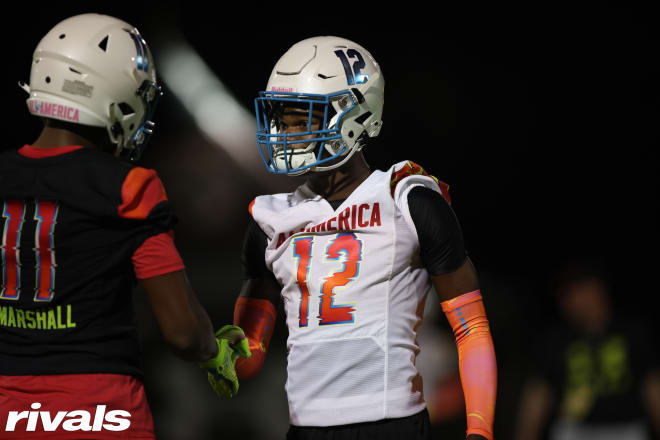 In recent weeks, the talk of the world of recruiting and the world of College Football in general has been Travis Hunter and his decision to sign with Jackson State instead of Florida State, so it's understandable why the spotlight would have been on. of him all this week. Despite all the attention he has received for being the player he is and his recruiting news, player no. 1 of the nation hasn't seen much action make its way through two workouts.
What makes Hunter so special is how dominant he is as a catcher and defender, a five-star on both sides of the ball, but so far he has spent most of his time on the cornerback and the quarterbacks have gone for his side. the field. Hunter didn't lose any noteworthy tricks, but he also didn't make many plays during one-on-one, 7-on-7, or team drills. He's so good when the lights come on that he's bound to show up in upcoming workouts and in the game, but it's a little surprising not to have seen him do much in two workouts.
Will Johnson (Michigan) has led the way so far for defensive backs, but he hasn't completely separated from the group. Daylen Everette (Georgia) and Robert Spears-Jennings (Oklahoma), which is perhaps the biggest surprise of the event so far, are doing very well. Keon Sabb (Michigan) is also right there.
After a slow start on Wednesday, Jeadyn Lukus (Clemson), Zion Branch (USC), and Sherrod Covil (Clemson) are back in a big way on Thursday. Everyone has played numerous ball games. Bryce Anderson (Texas A&M), Bobby Taylor (Texas A&M), Trequon Fegans (Alabama), JQ Hardaway (Cincinnati) and Joshua Thompson (Stanford) were a bit high and low during the first two tests. Brian Allen Jr. (Texas) and Kamari Wilson (Florida) have also had erratic performances so far.
Jacoby Mathews arrived late on Wednesday, skipping the first workout, and was just getting acclimatized on Thursday. Sam McCall (State of Florida) is present but has not exercised yet.
*****
WIDE RECEIVERS
The group of receivers is very talented and very deep but, based on how they have played this week, the best in position so far seem to be Aaron Anderson (Alabama), Antonio Williams (Clemson) and Luther Burden (Missouri), not necessarily in that. order. Evan Stewart (Texas A&M), Adam Randall (Clemson), Chris Marshall (Texas A&M), Shazz Preston (Alabama) and Maurion Horn (Texas Tech) were also very good. Kaden Saunders (Penn State) did not participate in Thursday's practice, but on Wednesday he was very good. Jayden Gibson (Oklahoma) and Andre Greene Jr. (North Carolina) are two of the most physically gifted receivers on the roster but, like Saunders, they only attended Wednesday's practice and had mixed results. Talyn Shettron (Oklahoma State), Armani Winfield (Baylor) and Amorion Walker (Michigan) bring a lot to the table and their skills fit well with this group, but they haven't had the level of success that other receivers have.
*****
QUARTITORS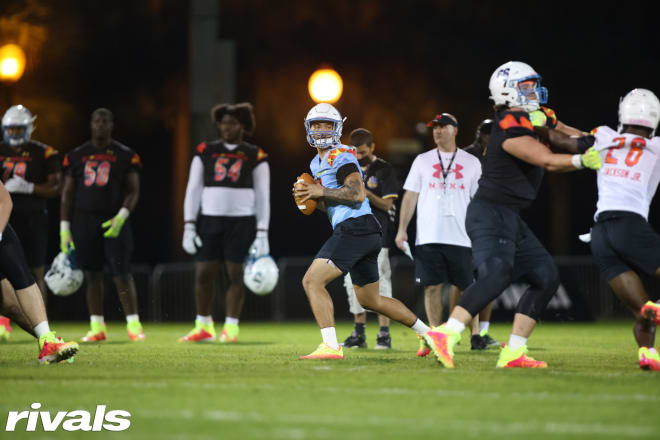 The quarterback group as a whole was very hot and cold. Conner Weigman (Texas A&M) is the highest ranked pitcher and his accuracy was a bit inconsistent. It will be interesting to see how much more effective he can be when he can actually use his legs. AJ Duffy (Florida State) and Steve Angeli (Notre Dame) have had similar problems. Duffy had a hard time throwing inconsistent intermediate routes and Angeli has consistency issues on deep routes. Holden Geriner (Auburn) and AJ Swann (Vanderbilt) still don't seem to have adapted to the level of skill and speed of the defenders, so their timing with the receivers has not been perfect so far.
*****
RUNNING BACK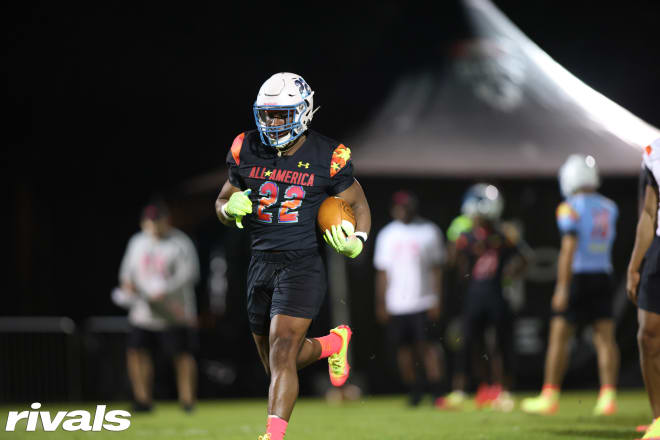 Five-star running back Georgia Branson Robinson was the only back available for the Icons team on Thursday, so five-star linebacker Harold Perkins jumped on the other side of the ball. Jovantae Barnes, Emmanuel Henderson (Alabama) and George Pettaway (North Carolina) all dressed up for the Legends team. In workouts like the ones we saw on Wednesday and Thursday, it's hard for running backs to really show their skills. During the poses exercises, each of the backs showed much of what we already knew about them.
Robinson has amazing quickness and descent speed for a back built like a tank. Barnes is a great standing runner with power. Henderson is also a bit erect, but he brings impressive athletics to the table and has good speed in direction changes. Pettaway is a little smaller but he runs after his bearings, is very explosive and has good hands.
*****
LINEBACKER
There are many big names and top-tier linebackers here in Orlando, but practices haven't made it easy to evaluate them. It was easy enough to see the talent that Harold Perkins, CJ Hicks (Ohio State) and Jihaad Campbell (Alabama) bring to the table, but most other linebackers didn't do much to evaluate. Jaron Willis (Ole Miss) is quoted at 220 pounds on the official list, but it looks a bit light. The Ole Miss signer appears to be carrying a much more solid burden.
Shawn Murphy (Alabama), Jaylen Sneed (Notre Dame), Martrell Harris (Texas A&M) and Jalon Walker (Georgia) all looked good in the exercises but haven't done anything notable yet. Gabe Powers (Ohio State) has leaned quite a bit since the summer and looked a little lighter on his feet during exercises. Stone Blanton (South Carolina) got a little slammed, but held out with two trials. Dasan McCullough (Indiana) is a physically imposing linebacker but did not participate on Thursday. We hope he will be back on the pitch by the end of the week.
*****
OFFENSIVE LINEAM
Some offensive linemen got a lot of hype during the first two tests, but none performed better than Devon Campbell. The Texas five-star guard was in a class of his own. He has the measures and the strength to be considered a first collaborator in whatever school he chooses.
Campbell showed fantastic technique and some nastiness. In one-on-one, he managed five-star Walter Nolen and Bear Alexander alongside a slew of other top-tier defensive linemen. Kam Dewberry (Texas A&M), Will Campbell (LSU) and Neto Umeozulu (Texas) also did very well. Zach Rice (North Carolina) has had his ups and downs of handling better competition than he has ever faced, but he seems to be adjusting quickly. Patrick Williams Jr. (Texas A&M) is a very lean tackle with a basketball background. Texas A & M's commitment is surprisingly strong and technically more sound than expected. He'll have to complete his frame before he can count on him to see consistent playing time, but he has a lot of potential and could turn into a very important piece for the Aggies.
Drew Shelton (Penn State), Bo Bordelon (LSU), Deshawn Woods (Missouri verbal), Emery Jones (LSU) and Tyler Booker (Alabama) all played well but were as dominant as the others. Collin Sadler (Clemson) has been in the mix but has done a lot to be rated so far this week. Demetrius Hunter (Houston) did not participate on Thursday and lost a good portion of practice on Wednesday. Kelvin Banks (Texas), Sheridan Wilson (Texas Tech) and Ty Chan (Notre Dame) have had their ups and downs so far.