BUENA VISTA LAKE, Florida – The training sessions leading up to the Under Armor All-America Game are over and all the players have to do is rest for Sunday's match. The exhibits of the practices answered many questions, but there are still issues to discuss.
Here are the five most important questions we hope the game will answer.
1. Which teams will they add to their recruiting class?
Most of the players here in Orlando have already signed, but three players announced their commitments during Sunday's game. Five-star Harold Perkins is the headliner and his recruitment feels like a three-team match. Texas A&M is the favorite, but Perkins says he won't be signing until the February signing period, so they'll have to keep teams like Texas and LSU at bay. Florida is also a team to watch. He should pay a visit to Gainesville later this month.
Jovantae Barnes is deciding between Oklahoma, USC and Florida State. The Rivals250 returning from Las Vegas has excellent relationships at all three schools but De Marco Murray in Oklahoma he could have given the Sooners the inside lead. USC head coach Lincoln RileyThe offense is very tempting and the opportunity to play at Florida State has caught his attention.
The state of Ohio has long been the leader of Omari Abor, but Texas is making it interesting. The Texas native says he won't be signing until February, so he's likely to be making visits this month. larry Johnson he had a great influence on Abor during his recruitment, but the Longhorns and all the transfers they received attracted the attention of the defensive side.
*****
2. Can Travis Hunter solidify the number 1?
Travis Hunter is a phenomenal talent who could be a five star on either side of the ball and was dominant last season but wasn't very successful this week. He bounced back and forth between cornerback and receiver, and the quarterbacks targeted him a handful of times, but there were no notable results.
In the meantime, the general prospectus no. 2 Walter Nolen was a man on a mission this week. The Aggies signer has dominated one-on-one and team drills and may have a case to rise if he continues to destroy the competition.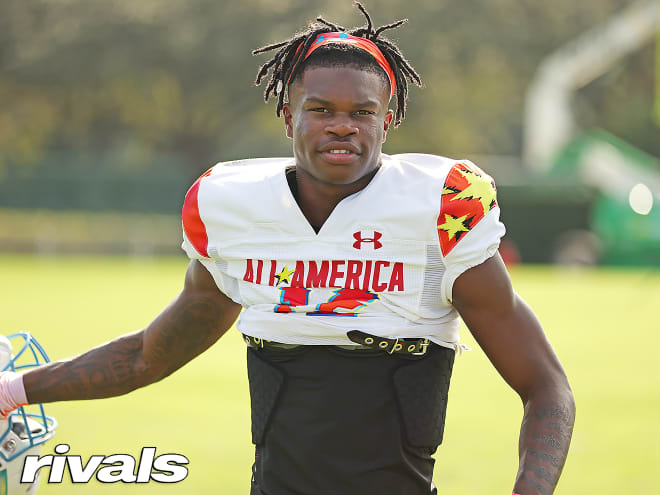 *****
3. Will Texas A&M commitments show they are building towards the CFB Playoff?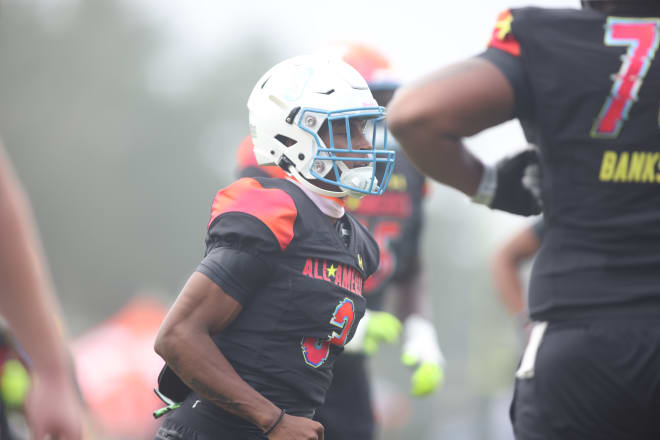 There are more future Aggies on the roster than any other school and many of them have played well, but Texas A&M standards are high. Jimbo Fisher and his team are shooting for a national championship, Texas A&M's first since World War II, and they hope this class of recruiting will propel them to the top of the college football universe.
Walter Nolen, Evan Stewart, and Denver Harris are the three-star five-star they have in this No. 1 and may have at least one more when all is said and done. Sunday's game should take a good look at the future of the SEC West program.
SHARE YOUR THOUGHTS WITH A&M TEXAS FANS AT AGGIEYELL.COM
*****
4. Is there another five-star WR?
Luther Burden (Missouri), Tetairoa McMillan (Arizona) and Evan Stewart (Texas A&M) are the three five-star receivers in this class so far and there may be another name joining this group. Shazz Preston (Alabama) has been very good this week and has the skills to be a dominant receiver at the next level. Not a great catcher, but he has a good size and constantly opens up against elite defenders.
Chris Marshall (Texas A&M) made a number of highlight captures throughout the week and his size / speed combo was tough for the defensive backs to manage. Aaron Anderson (Alabama) only trained twice this week but was unstoppable when on the pitch. He's low enough but he's so fast and caught everything thrown at him that he wasn't completely knocked over.
*****
5. What will we learn about running backs and linebackers?
The training structure this week made it really hard for the running backs and linebackers to show their skills and the two groups are really talented. Five-star CJ Hicks and Harold Perkins along with Rivals250 prospect Jihaad Campbell had a flash, but Shawn Murphy, Jaylen Sneed, Dasan McCullough, and Jalon Walker, all potential Rivals100 clients, weren't able to show much.
There are other linebackers who are highly regarded here too, but haven't been able to show much of anything notable yet.
The running back group is also full, but they have not participated much in the one-on-one and the team drills are not at full capacity.
Branson Robinson is here and is one of two five-star running backs in this class and appears to be in excellent physical shape. Jovantae Barnes, George Pettaway and Emmanuel Henderson did some drills, but their action at full speed was limited.
Kaytron Allen hasn't participated in more than two rehearsals and the only practice Le'Veon Moss adapted for was the walk on Saturday. Gaming is truly the only opportunity these players will have to impress before they go home or go to college.