National columnist rivals Mike Farrell is here with his thoughts on Caleb Williams' transfer portal announcement, Farrell's All-Bowl team up front, and commentary on the quit players debate.
*****
TRUTH OR FICTION: Ohio State will be the all-time favorite in 2022
RANKING CLASS 2022: Rivals250 | Location | Team | State | JUCO
RANKING CLASS 2023: Rivals250 | Location | Team | State
TRANSFER PORTAL: Stories / coverage | Notice board
RIVALS CAMP SERIES: Info / coverage on the 2021 camp series
*****
1. Caleb Williams is on the move (maybe). Where will it land?
The Monday after New Years has become one of the most important days for the transfer portal apparently, and this year was still the biggest. And while some college football-altering names came in, the tweet from Oklahoma freshman quarterback Caleb Williams who was walking into the portal is the biggest.
When former OU owner Spencer Rattler moved to South Carolina after losing his job to Williams, Oklahoma fans weren't shocked at all. They had their future quarterback. With Lincoln Riley at USC, Williams stayed and led his team to victory over Oregon in the Alamo Bowl. And now he has announced that he will still consider Oklahoma but will enter (he has not entered the portal since Monday night). Where could it land?
Oklahoma – Could stay, but it seems far less likely with Dillon Gabriel switching from UCLA to Oklahoma on the same day Williams announced. However, with Jeff Lebby Taking over the attack and work he did with Matt Corral at Ole Miss, Williams would do well to keep OU in his sights.
Ole Miss – The rebels have to be taken into consideration with Corral leaving and how well Kiffin lane he has that offense rolling and how he develops quarterbacks. They weren't on his list coming out of high school, but you can bet they will be now.
Georgia – This could be the team to watch despite Gunner Stockton's efforts. Remember that Williams will pretty much play two more seasons, so you have to look at the current roster more than the incoming recruits and Georgia has a depth issue with QB.
USC – Why not go to the coach you wanted in the first place and follow Riley to USC? The competition is solid there with Jaxson Dart, but we know Williams will play immediately and have some serious guns.
Texas A&M – You can't put anything in the past Jimbo Fisher in recruiting these days, and even with the relocation of former LSU holder Max Johnson, you can bet Williams would be interesting.
Penn State – Considering he's from Maryland and how well Nittany Lions recruit the state, you have to think James Franklin might take a look here. Penn State doesn't have an elite quarterback, for sure.
Clemson – DJ Uiagalelei is there, but he hasn't lit up the world yet and Williams really liked Clemson when he comes out of high school. He could easily win the job there.
Maryland – He's kind of a risk, but he always liked his state school, and Mike Locksley can recruit. The Terps already have Taulia Tagovailoa there, but they can't ignore a local five-star and elite starter.
LSU – Brian Kelly he's not known for recruiting elite quarterbacks, but Williams liked LSU after high school and the talent must be intriguing.
copper – Bryan Harsin he is known as an offensive mastermind and the opportunity is there immediately for a player of Williams' caliber to play and compete in the SEC right away.
Miami – Why the 'Canes? Mario cristobal is a great recruiter, there are some rumors that Joe Brady could land in Miami and the former LSU OC and QB whisperer is loved by the Williams family. I'm a long shot, but things are different now under Cristobal.
UCLA – I'm throwing this one out there simply because it's a great fit underneath Chip Kelly and Gabriel leaves. And the need is high at QB with Dorian Thompson-Robinson gone.
*****
2. All-Bowl Team: Attack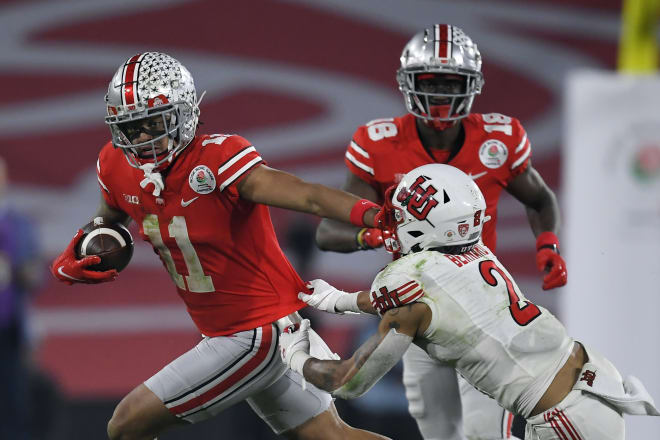 We still have a bowling game between LSU and Kansas State, and then this national title thing between two SEC teams, and then college football is over. So I can feel confident making my All-Bowl Team this week, and I start offense.
QB: CJ Stroud, Ohio State
There have been a lot of great quarterback performances during the bowl season, but it was the Ohio State red-jersey freshman who was head and shoulders above the rest. His 573-yard passes and six touchdowns were both Rose Bowl records. Whenever you break those marks in the most historic bocce game, you will be noticed.
RB: Brian Robinson Jr., Alabama
It was Robinson, and not Heisman winner Bryce Young, who was the catalyst for Alabama's attack in the playoffs victory over Cincinnati, as he picked a great time for his best collegiate performance. Robinson racked up 26 carries for 204 yards, helping the Tides break away in the second half and preparing them for a rematch against Georgia in the title match.
RB: Jordan Mims, Fresno state
Mims did it all for the Bulldogs in their UTEP victory in the New Mexico Bowl, showing his versatility in the process. The senior running back ran for 165 yards and two points, adding 70 yards in reception and a touchdown.
WR: Jaxon Smith-Njigba, Ohio State
What else is there to say about Smith-Njigba's performance at the Rose Bowl that hasn't already been said? He played one of the best games we've ever seen as a catcher, breaking all sorts of records with 15 tricks for 347 yards and three touchdowns.
WR: Brandon Lewis, Air Force
An Air Force Receiver with a Great Game: How Often Does That Happen? Well, as Louisville was running out to stop their triple option attack, they forgot to cover Lewis, who had five catches for a whopping 172 yards and two scores, which went 61 yards and 64 yards respectively.
WR: Jesse Matthews, State of San Diego
The Aztecs may be known for their ground attack (and their punter Matt Araiza, which is one of the best we've ever seen), but it was Matthews who stole the show in their Frisco Bowl victory over UTSA. He had 11 tricks for 175 yards and two touchdowns, alone amassing more than half the yards received by the team.
TE: Jaheim Bell, South Carolina
The Gamecocks ended an amazing season with a big win over UNC at Duke's Mayo Bowl and a lot of that was because Bell was simply dominant. The big tight end had five holds for 159 yards and two scores, including a 66-yarder and a 69-yarder.
OL: State of Kent
The Potato Bowl has had some absolutely epic offensive performances: both Wyoming (more on that later) and Kent State have been scoring stupid numbers. The Golden Flashes passed 300 yards passing and running, supported from within their line. Guards Adam Gregoire and Nathan Monnin received PFF (Pro Football Focus) ratings over 85 for the game.
OL: Wyoming
While Kent State was hitting big numbers, so was Wyoming, who ultimately won the game thanks to a 411-yard running performance, led by quarterback Levi Williams, who had 200 yards and four ground scores (and added 127 yards and another score in the air). All three of the Cowboys' internal starting linemen (center Keegan Cryder, RG Logan Harris and LG Latrell Bible) were ranked above 80 in both passing and running block for the match by PFF.
OL: Baylor
The Bears ended an extraordinary year with a Sugar Bowl victory over Ole Miss by running 279 yards and not conceding a single sack and a single rush against one of the best passes in the country. Right guard Grant Miller, a transfer from Vanderbilt, had a really good game and received the team's highest degree of blocked passes.
OL: Arkansas
The Razorbacks did what they do best against Penn State in the Outback Bowl: bully teams with their physics running game. They ran 353 yards, averaging 6.1 yards per carry behind an offensive line anchored by center Ricky Stromberg, who was the team's best offensive lineman.
OL: Western Kentucky
Honestly, you could put all of their attack on the map for this game. QB Bailey Zappe had another phenomenal performance (422 yards and six touchdowns) and Jarreth Sterns took 13 balls for 184 yards and three points. The Hilltoppers ran 216 yards as a team (averaging 7.7 yards per carry) and amassed 59 points against a strong Appalachian state defense. But one of the most impressive things about the game was the fact that they only conceded one sack, backed by tackling duo of Mason Brooks on the right and Gunner Britton on the left.
*****
3. Waiver of Opinions.
People can be so negative. At least the people who make noise on social media and message boards. And I'm generally a negative person, so that's okay with me. But when I see people attacking Kirk Herbstreit or others on their opinion on the opt-out of the players for the games of pétanque, it's just all hate and nothing else.
People don't want opinions, they want to hate them. They don't want debate, they want to be contrarian. And they love to think of professionals cheering on poor student athletes to entertain them for free. That's why when ESPN's Herbstreit commented that "this era of gamers just don't like football" on "College GameDay" talking about elite players sitting at non-playoff bowling games, people went crazy. They did the same to me when I tweeted my admiration for Matt Corral ducking his head in the Sugar Bowl to gain yards because he got hurt a couple of plays later and had to come back on crutches.
Was I sitting on my tall, mighty throne watching Corral entertain me like a king watching lions kill in a sports arena? No. And Herbstreit was protecting the interests of ESPN, the network that broadcasts all these nonsensical pétanque games, calling out to sit down players? No. He couldn't care less. We love the sport and selfishly like to see players compete.
Yes, I was thrilled to see Corral fight hard with his team on his way to the NFL. And I was also saddened to see him get injured. But to say that I had a vested interest in seeing players like Corral entertain me at risk of losing millions to injury is just hateful and stupid. And attacking Herbstreit for questioning players' desire to play these games is the same.
We are in the age of opt-outs, transfers and the NIL: this is life. For those of us who have seen a different day and age of college football – or those like Herbstreit who have played in one – it's frustrating. But trust me when I tell you there is no ill will.