Welcome to Style diaries, a new series in which we research the physical manifestations of our tours in the IRL closet. We ask friends and trendsetters to show us what they are * actually * wearing during the week and to provide a small taste of their views on the current state of fashion. This week, PR enthusiast Sara Larson documents his experimentation with color. Having challenged herself to wear more, she created dresses with pink PVC, neon green trainers, cherry red knitwear, and green bodycon dresses, proving that these shocking shades aren't all that scary.
What role does fashion play in your life? How do you need it?
"Fashion is a constant in my life. It is part of my daily existence. Living in some cities around the world before settling in New York, I have had the chance to experience my own style over the years. I keep evolving and changing while maintaining a solid personal sense of style. I love seeing color in a new way, mixing prints with just the right amount of vibrancy. Above all, I find the greatest joy in discovery, old and new alike. The "wow" moment for me is seeing a magnificent piece for the first time.
"We all have different goals, and that's what makes it a personal expressive adventure, it's also what makes it beautiful. I need fashion because I am able to support established and emerging designers in their work. I love having that delightful opportunity to put an amazing piece on my body and feel all the electricity and creativity that was in that piece. It's adding the right necklace or lipstick to make it look understated or completely over the top.
"I am grateful to live in the world of fashion and to be able to do what I love, every day".
Day 1: a dinner with friends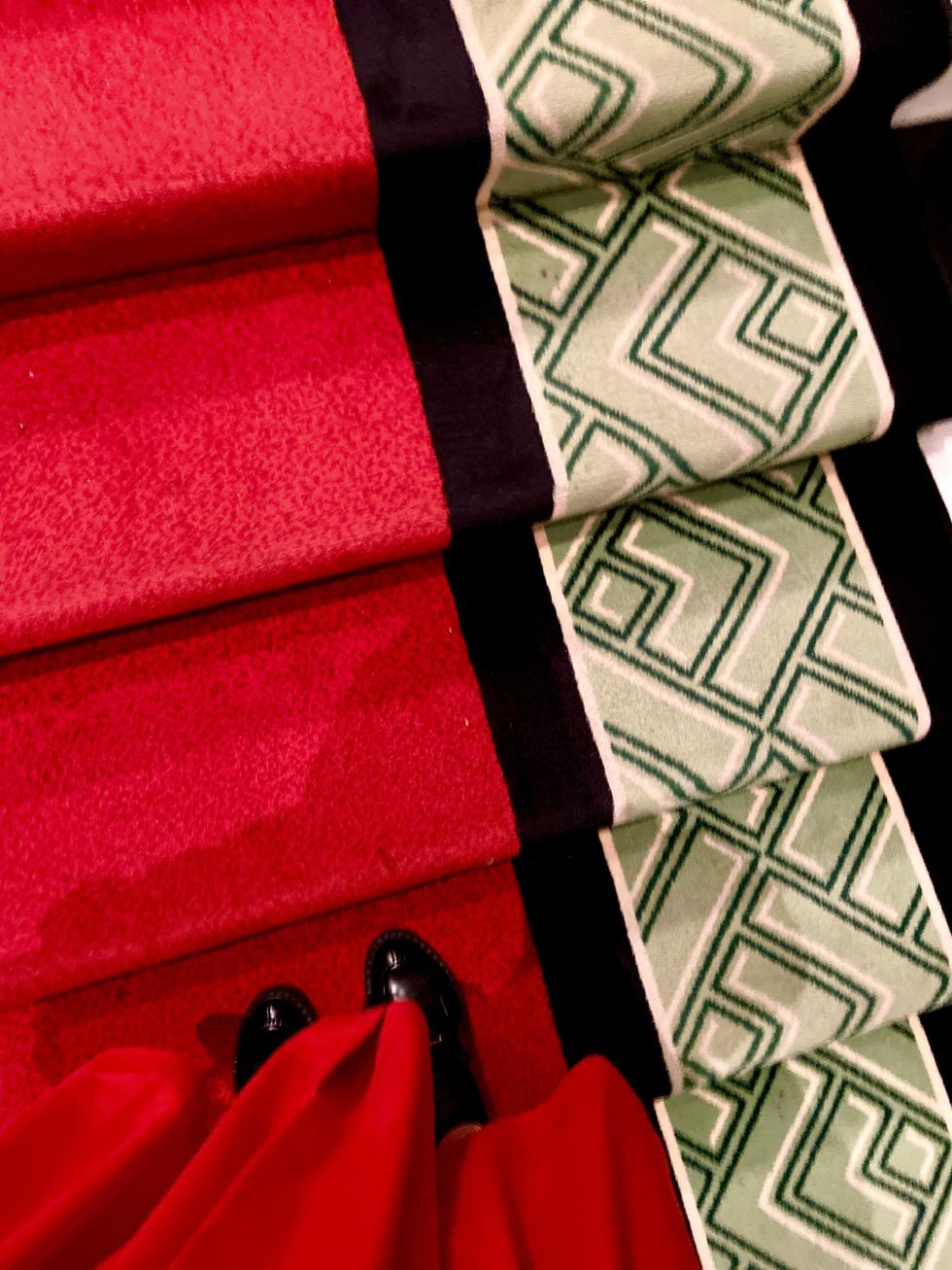 "I love a monochromatic look and this archival Escada sweater matched exactly my favorite One / Of Cydney dress. I really like to style a fully buttoned placket for a more masculine and skater vibe. Here, I opened it with a vintage Celine chain necklace and a Jamie Wolf tennis necklace. Prada loafers with a black silk sock were the finishing touch to give it a bigger vibe but still "enough" to wear at night for a dinner or event.
"[I loved] versatility and brightness. I feel best in red or a bright color, next to all black. This aspect looks like armor, which illuminates me from the inside out. "
Shop the look:
How is your style these days? Do you have an ideal outfit formula or do you prefer to change it when you get dressed?
"It really varies! If I go to the studio, I love wearing denim and a comfy cashmere sweater (The Ludisia by One / Of is the softest thing I've ever worn) with sneakers or these JW Anderson slippers. Always fresh skin (Babara Sturm is my quintessential favorite) and some kind of lip (Milk Makeup makes an amazing red). Plus, a fun line of layered jewelry and earrings. Same with the rings. If I have to go to a reunion in Brooklyn or the city, I'll most likely be wearing something pizazz and these fun Jimmy Choo for some color. I think now more than ever, I celebrate any excuse to dress up! "
Day 2: buying plants with her husband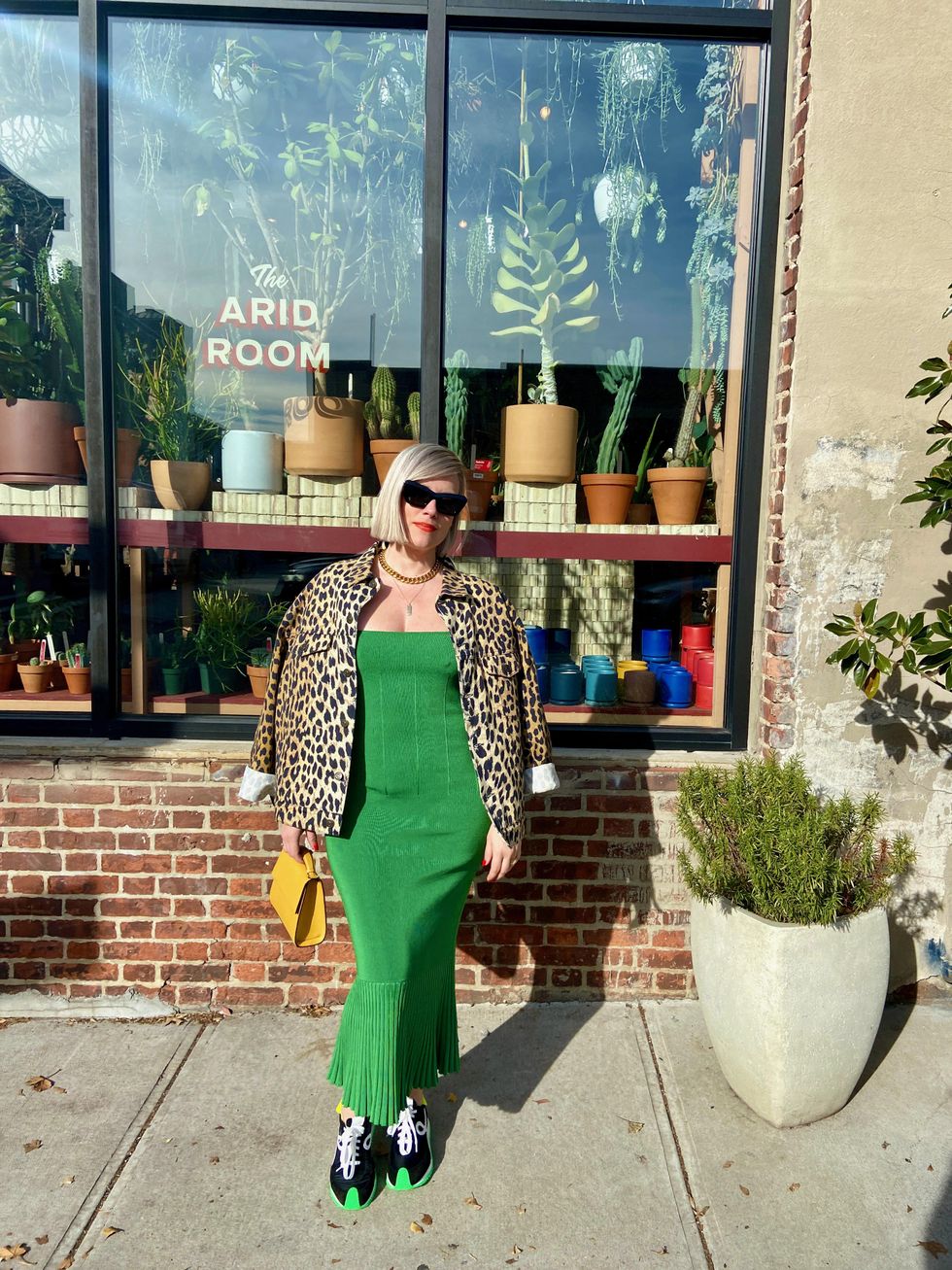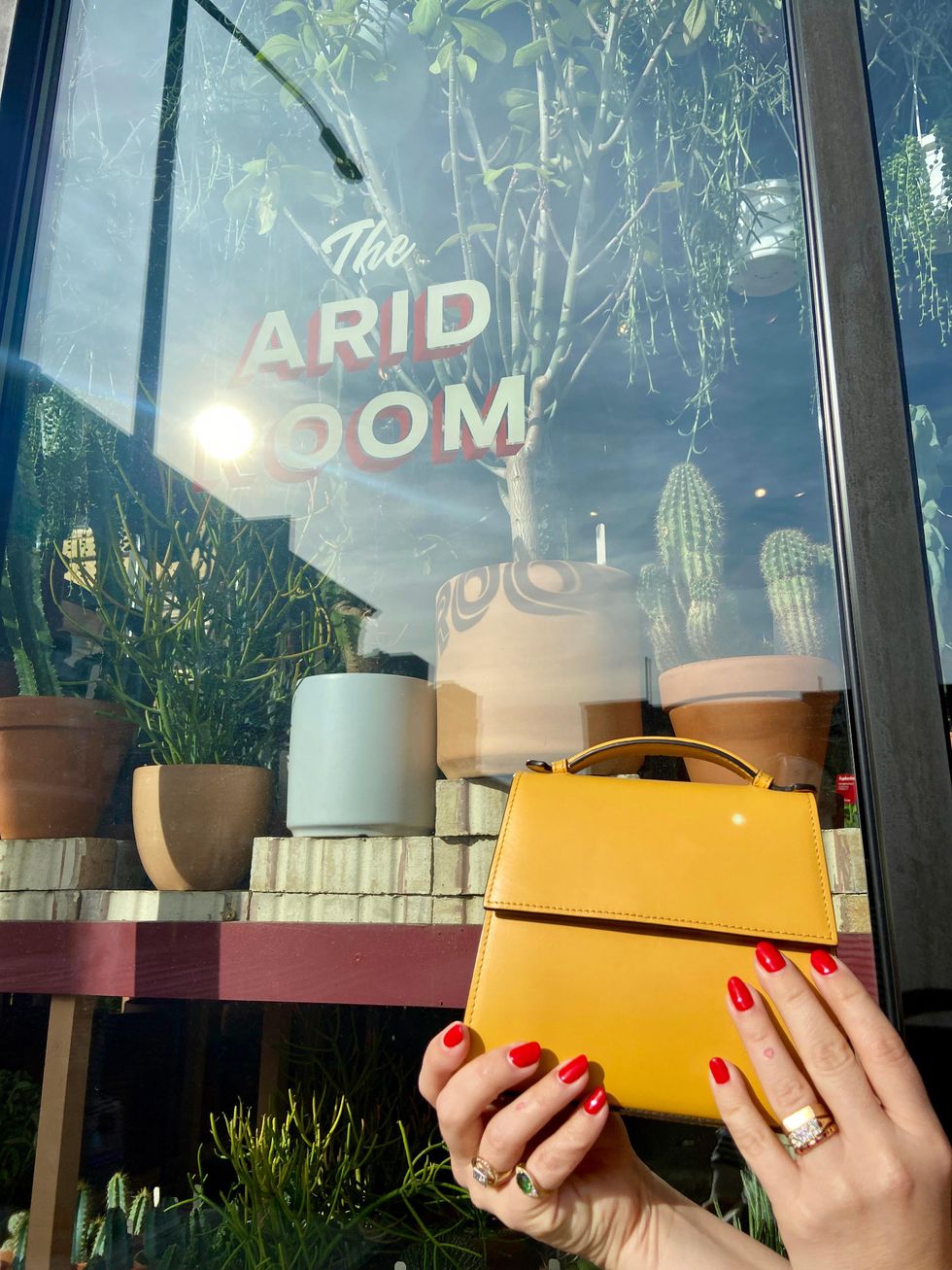 "Besides red, my second greatest love is jungle green. I am obsessed with this knit dress from Galvan. Makes me feel my sexiest. I wanted to lighten it up for a daytime look, so I wore this oversized denim jacket from Balenciaga, paired with these hilarious Loewe sneakers and the lemon hunting season top handle bag for a vitamin D hit. Press, [I managed to] find the right balance between the two ".
Shop the look:
What energy are you bringing to your ensembles this season? What are you looking forward to wearing?
"Color, color, color! I started experimenting with monochromatic red and evolved into other bright colors – I can't wait to see what comes to mind this year."
Day 3: lunch and dinner at the Indochine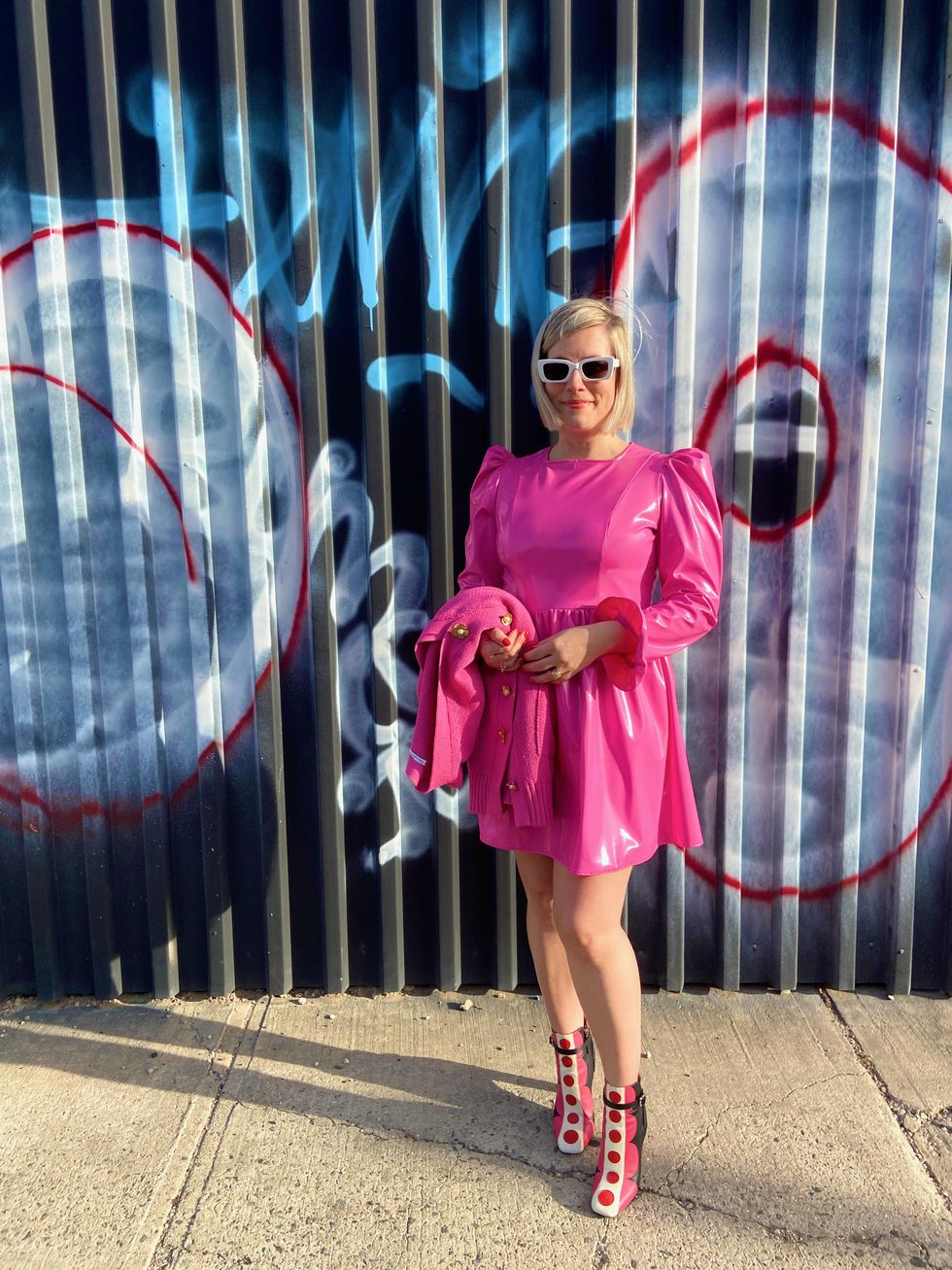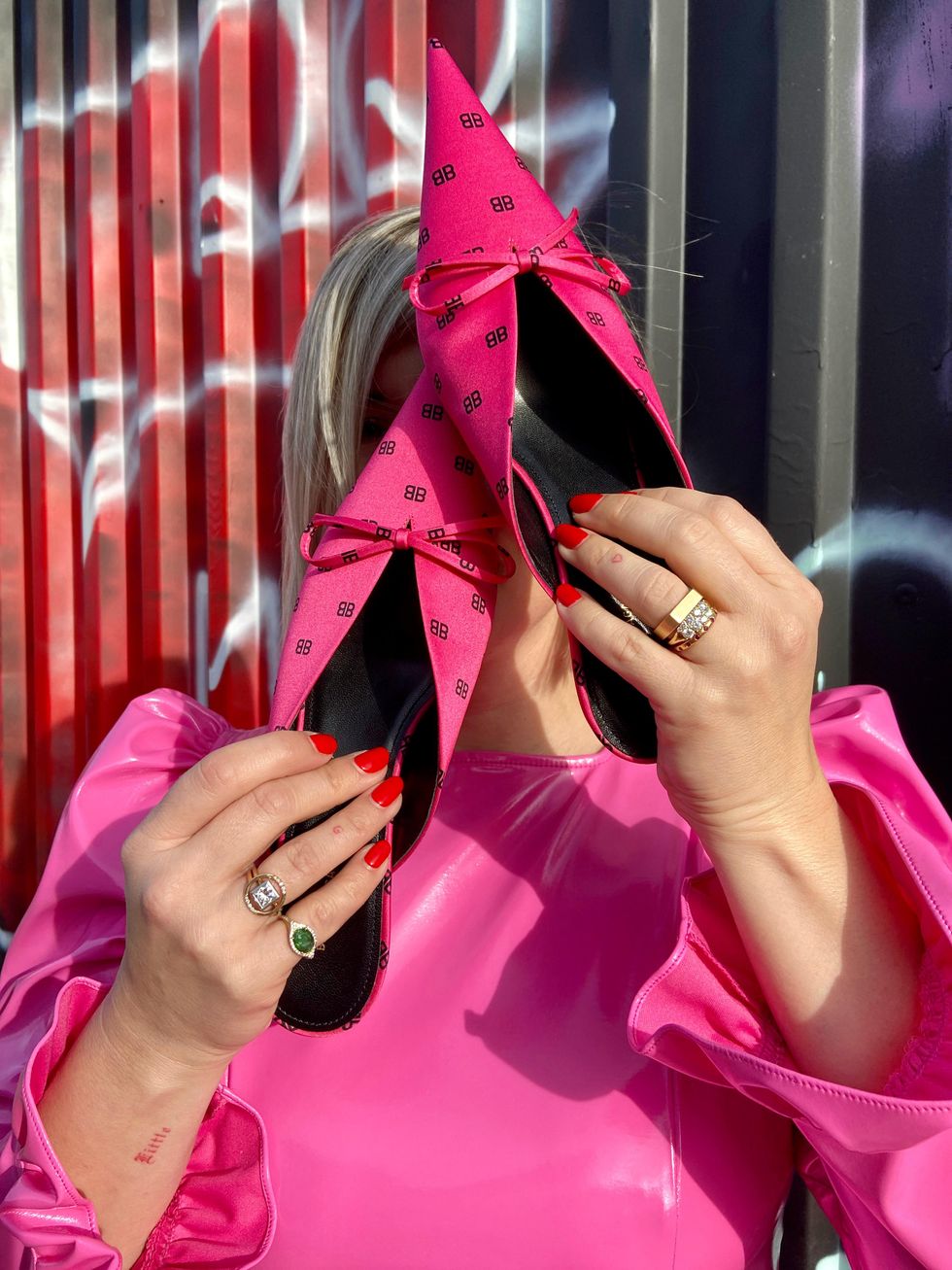 "Pink is a new world of exploration for me. As a wearer of red lipstick as I am, I sometimes turn into the world of pinks. This Batsheva dress literally in the most perfect shade of pink is stunning. The fabric is PVC and hugs the body in just the right places and it couldn't be more fun to wear. I happened to have an Oscar de la Renta sweater in a matching shade of pink and paired with these vintage Valentino boots it makes the look complete. It's a light atmosphere, but also serious enough for a new meeting with a client and a great representation of one of my many, many sides of fashion. Wearing pink PVC feels like a dream to walk the streets of Manhattan. It's sober but made to stand out, wherever you go. "
Shop the look:
In terms of beauty, what does your hair and makeup routine look like, and how does it change based on what you wear?
"My favorite hair is a razor sharp bob (with an undercut) because I have such thick hair! Kenna from Kennaland knows exactly what my hair needs and has been cutting it for some time now. Edward Lampley actually gave me my signature cut a few years ago, and it was a staple for me in my beauty look! I like to try on a red lip. To be sure, I always end up mixing an Hermès orange with a favorite red like Milk or Gucci Westman. I find my hair and makeup looks really stay the same no matter what I'm wearing. I could do more than a nude lip if I'm wearing a super bright color, or I'll do it with a red or an orange, pending which fashion. Always a subtle black eyeliner and my new mascara obsession is Soshe – mascara is the key to me! Also, a paper clip, no matter what my characteristic red fingernail is. Sometimes I like to experiment from time to time with checkers or a modern mani moon! Either I go to my local vegan beauty salon in Greenpoint or Paintbox. Also, I always like to have a DS & Durga fragrance or a blend of the two, such as Rose Atlantic and Amber Teutonic – this is a huge part of my routine. Having a distinctive fragrance leaves someone with a more vivid memory of you. "
Day 4: Appointment at the park with the children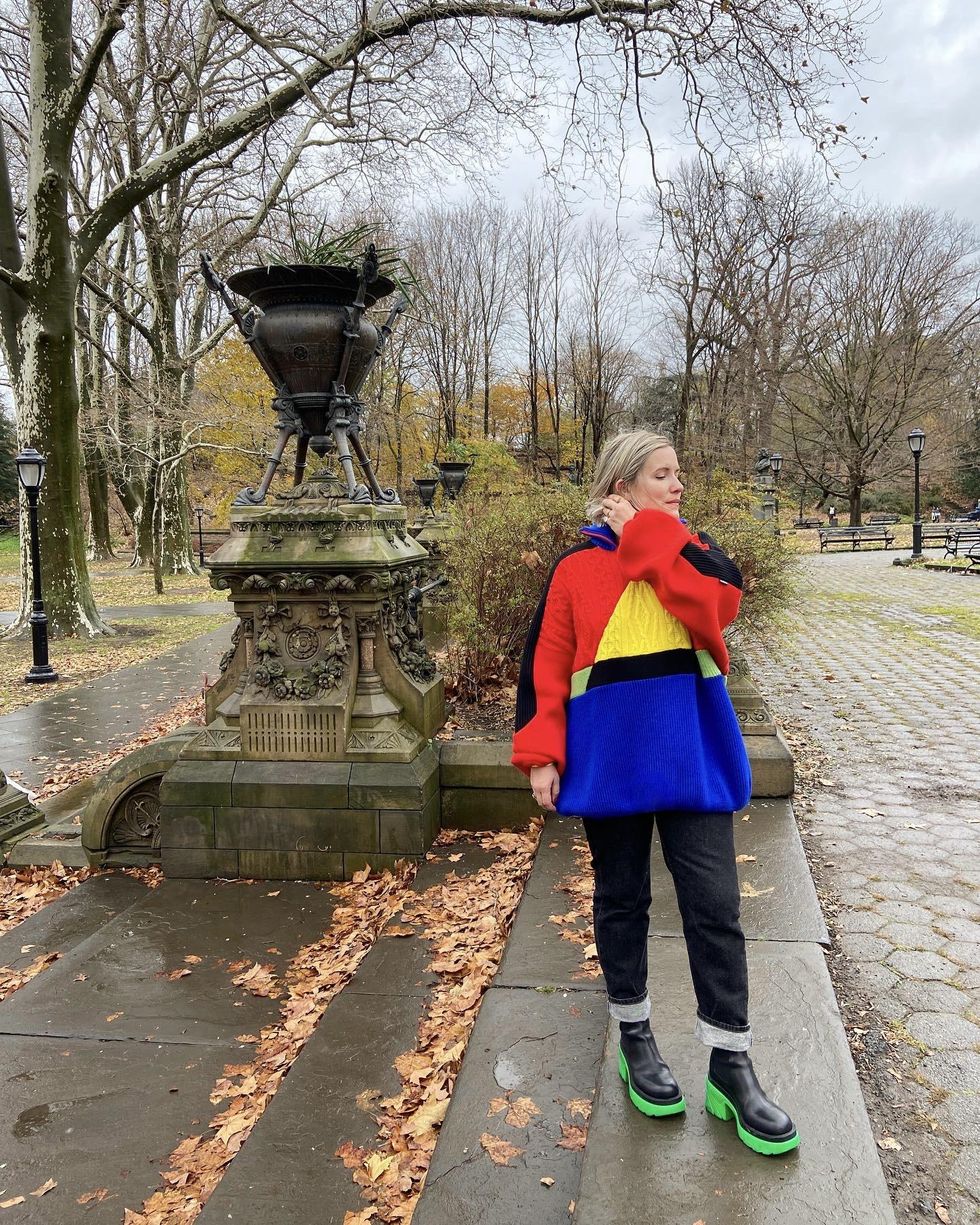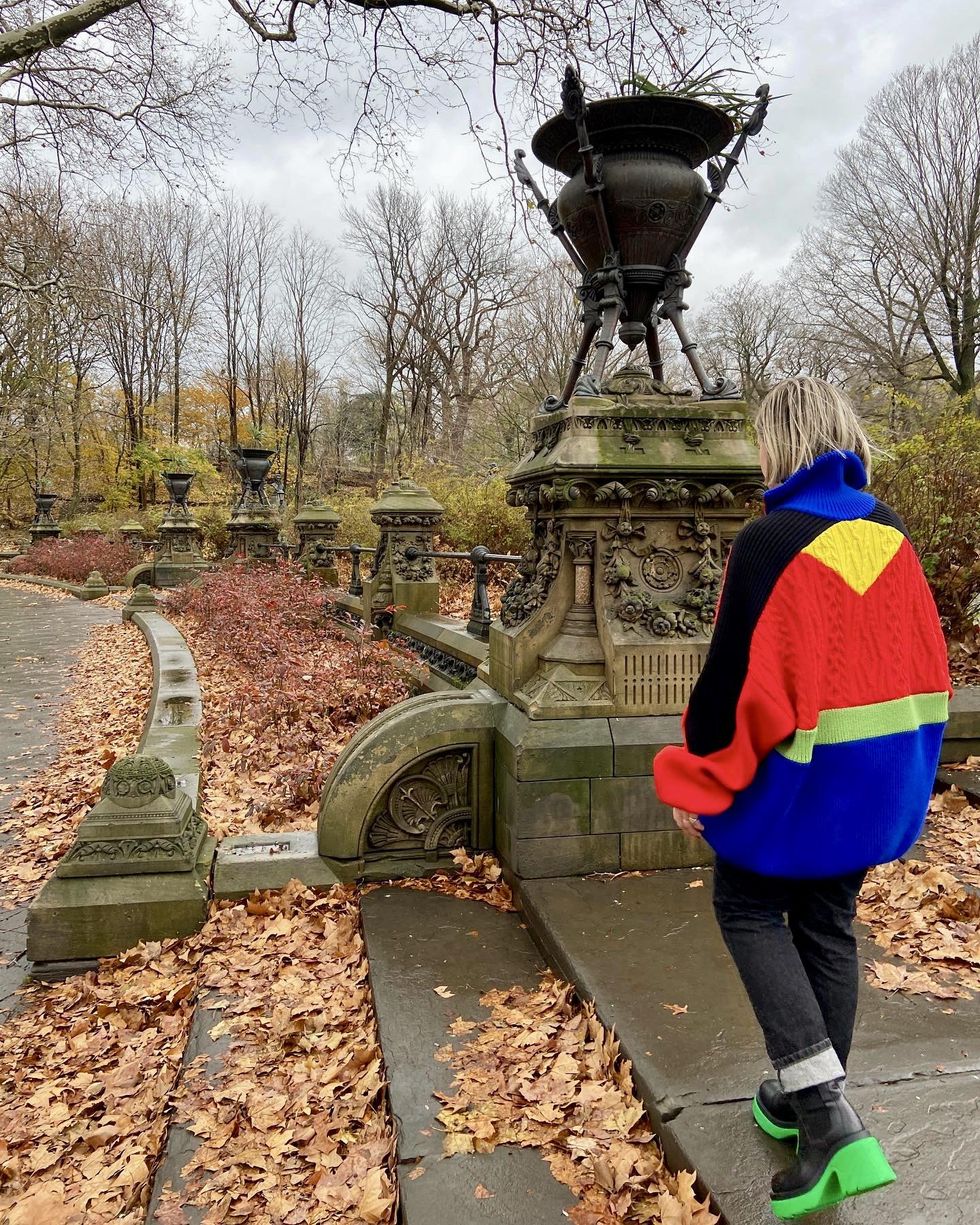 "An oversized and colorful shirt is so cool to show off as I chase my kids to and from. Paired with vintage Guess jeans and my favorite Bottega boots of the season. I wasn't sure about green soles at first, but they go with everything and are also very comfortable and super durable. [I loved] the comfort and ease of everything! "
Shop the look:
Look 5: visit to Alejandra Alonso Rojas showroom and go out with her daughter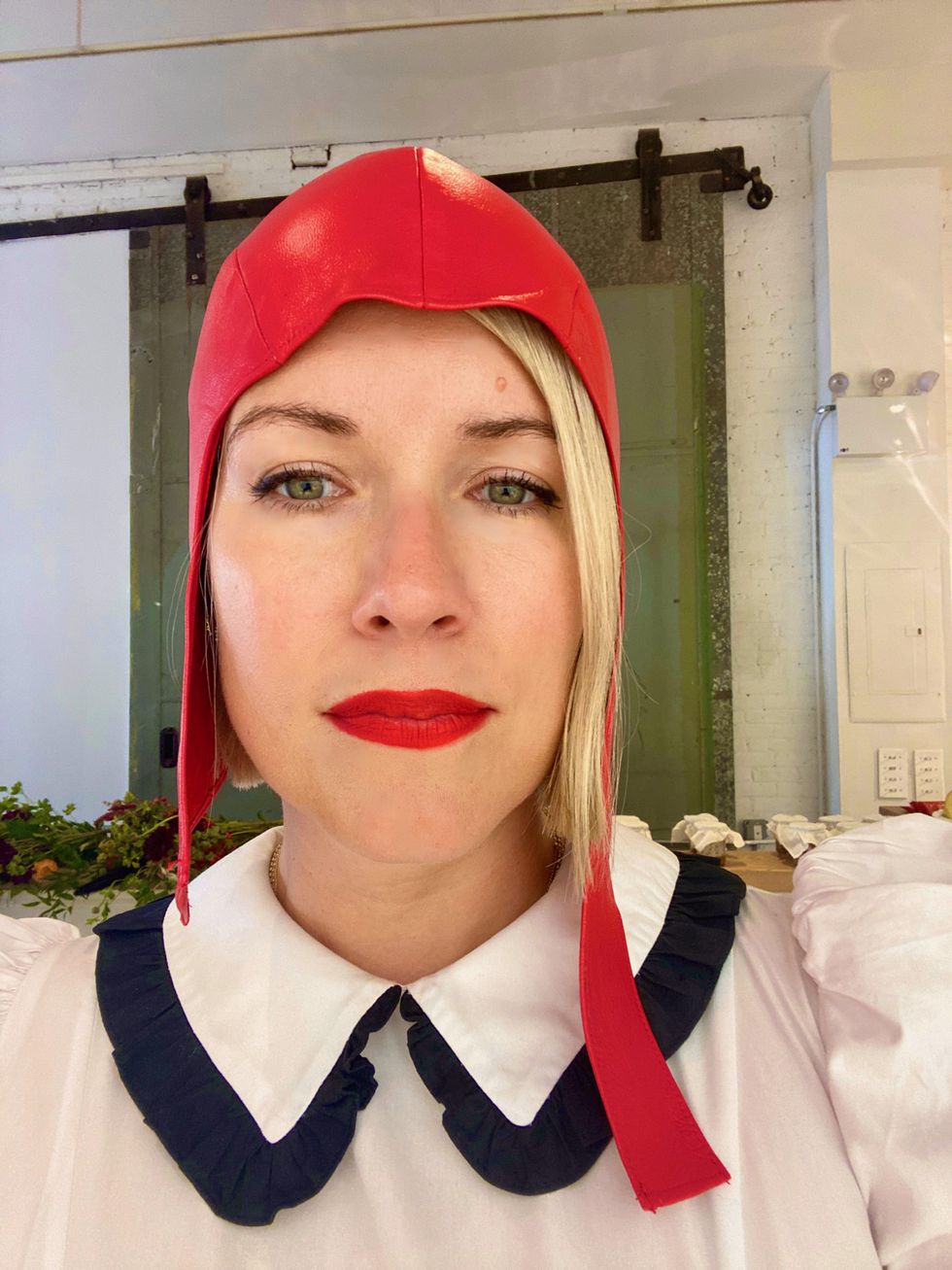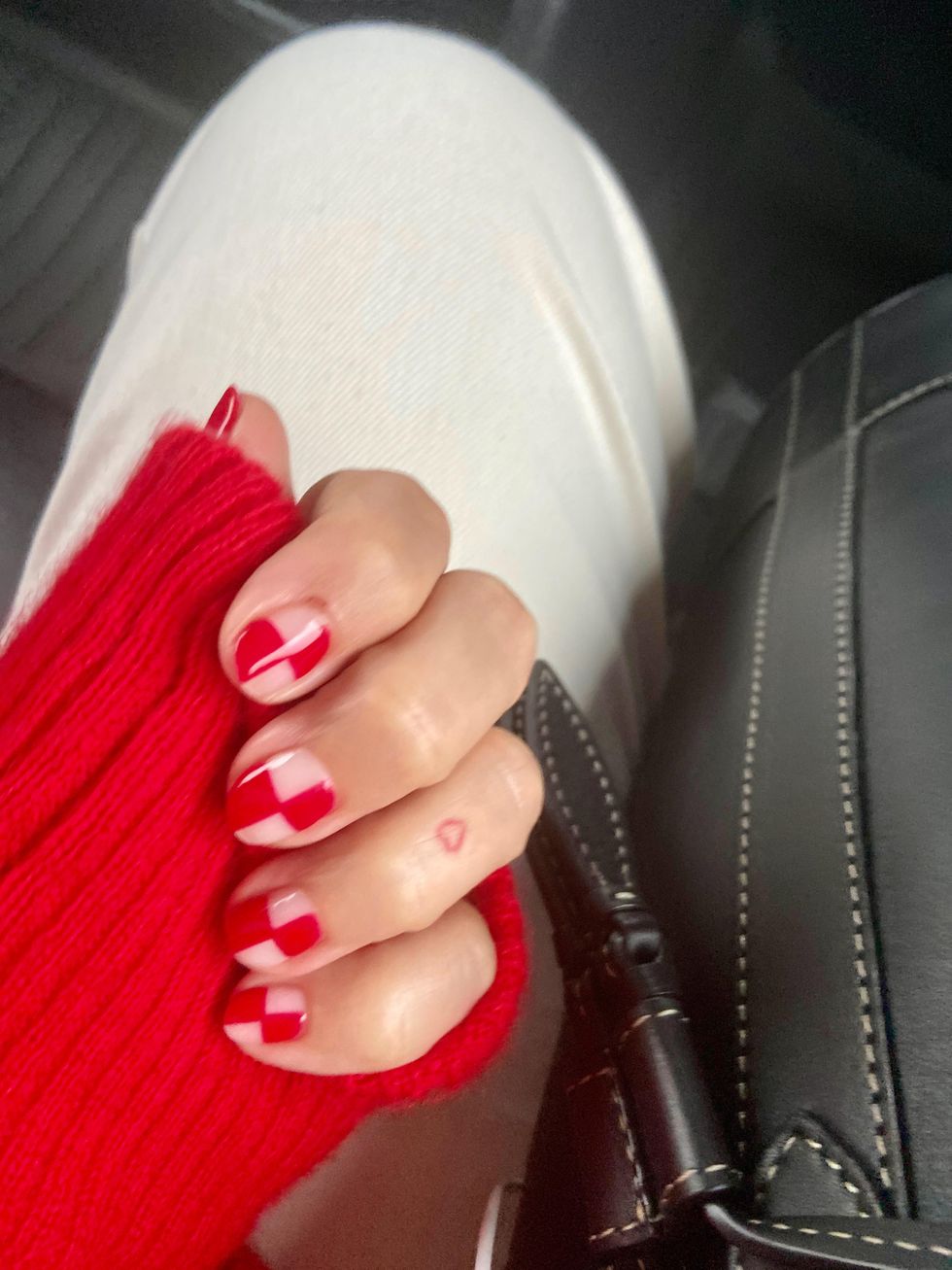 "I was playing with my friend Alejandra's red leather cap from her latest collection and fell in love with how it looked paired with one of my favorite Batsheva dresses (which I wear as much as I have an excuse for) and Here you are! The crisp, clean colors were a pleasure to wear together ".
Shop the look:
window.REBELMOUSE_ACTIVE_TASKS_QUEUE.push(function(){
var makeMonitor = (getStatus, cb, delay) => { delay = delay || 100; var monitor = () => { var time = +new Date(); var status = getStatus(); if (status) { return cb(status); } else { if (!stopMonitor && +new Date() - time < 30 * 60 * 1000) { monitorId = setTimeout(monitor, delay); } else { cb(false); } } }, cancel = () => { stopMonitor = true; clearInterval(monitorId); }; let monitorId, stopMonitor = false; return { start: monitor, cancel: cancel, }; };
var leftArrowCarrousel = makeMonitor( function () { return document.querySelector( ".shop-sidebar.shop-posts .posts-wrapper .slick-next" ); }, function (res) { res.addEventListener("click", () => { gtag("event", "Left Arrow Click", { event_category: "Shopping Module", event_label: "Previous product at carrousel", }); }); } );
leftArrowCarrousel.start();
var rightArrowCarrousel = makeMonitor( function () { return document.querySelector( ".shop-sidebar.shop-posts .posts-wrapper .slick-prev" ); }, function (res) { res.addEventListener("click", () => { gtag("event", "Right Arrow Click", { event_category: "Shopping Module", event_label: "Next product at carrousel", }); }); } );
rightArrowCarrousel.start();
var buyButton = makeMonitor( function () { return document.querySelectorAll( ".shop-sidebar.shop-posts .posts-wrapper .widget__product-buy-link-btn" ); }, function (res) { for (let button of res) { button.addEventListener("click", () => { gtag("event", "Buy button click", { event_category: "Shopping Module", event_label: `${button["href"]}`, }); }); } } );
buyButton.start();
var imageShopp = makeMonitor( function () { return document.querySelectorAll( ".shop-sidebar.shop-posts .posts-wrapper .widget__head a" ); }, function (res) { for (let image of res) { image.addEventListener("click", () => { gtag("event", "Image click", { event_category: "Shopping Module", event_label: `${image["href"]}`, }); }); } } );
imageShopp.start();
var productTitle = makeMonitor( function () { return document.querySelectorAll( ".shop-sidebar.shop-posts .posts-wrapper .widget__headline .widget__headline-text" ); }, function (res) { for (let product of res) { product.addEventListener("click", () => { gtag("event", "Product title click", { event_category: "Shopping Module", event_label: `${product["href"]}`, }); }); } } );
productTitle.start();
});
window.REBELMOUSE_ACTIVE_TASKS_QUEUE.push(function(){
window.REBELMOUSE_STDLIB.loadExternalScript("https://s.skimresources.com/js/150311X1615657.skimlinks.js", function() {
});
});
window.REBELMOUSE_ACTIVE_TASKS_QUEUE.push(function(){
!function(f,b,e,v,n,t,s){if(f.fbq)return;n=f.fbq=function(){n.callMethod?n.callMethod.apply(n,arguments):n.queue.push(arguments)};if(!f._fbq)f._fbq=n;n.push=n;n.loaded=!0;n.version='2.0';n.queue=[];t=b.createElement(e);t.async=!0;t.src=v;s=b.getElementsByTagName(e)[0];s.parentNode.insertBefore(t,s)}(window, document,'script','https://connect.facebook.net/en_US/fbevents.js');fbq('init', '1248680838922690');fbq('track', 'PageView');
});
window.REBELMOUSE_ACTIVE_TASKS_QUEUE.push(function(){
window.REBELMOUSE_STDLIB.onElementInViewport({ threshold: 400, selector: "video", oneTime: true, onIntersect: function(entry){ var element = entry.target; element.setAttribute("allow","autoplay"); element.loop = true; element.muted = true; element.autoplay = true; element.setAttribute("playsinline","true"); //element.controls = false; element.play(); } });
});