Welcome to I swear on this, a series of interviews where we talk to our favorite fashion and beauty insiders about the beauty products they use to the last drop. This week we asked the model and the content creator Amy Juliette Lefevre to share all of her current beauty favorites.
Amy Julliette Lefévre has always been interested in beauty – as a child she experimented with yellow eyeshadow – but she had no real knowledge of makeup and hair products until she started modeling. "I didn't know which foundation was best for me or what the difference was between full coverage and medium coverage," she says. "I would have asked the makeup artist and the hairdresser on the set with me so many questions about the products, take a picture of their advice and then go out and buy it."
His interest in skin care is a bit more recent. "My cousin Sarah is obsessed with skincare and up until six months ago I was honestly putting anything on my face," says Amy. "He helped me create content, so we've been working together more closely lately and his obsession hit me: now I'm so interested in doing product insights and paying close attention to the different formulations."
Below, Amy gives us an overview of the skincare, makeup, and hair products she's loving right now.
LA MOUSSE Anti-Foam Cleansing Cream
"I was using bubble bath on my face until someone recently told me you shouldn't do this. So, I quit and switched to this cleanser. I love the fact that it turns into a lather – you get the same lathering and deep cleansing sensation you would get with a bubble bath without altering the pH of your skin.
CHANEL
Capture Total Super powerful intense anti-aging serum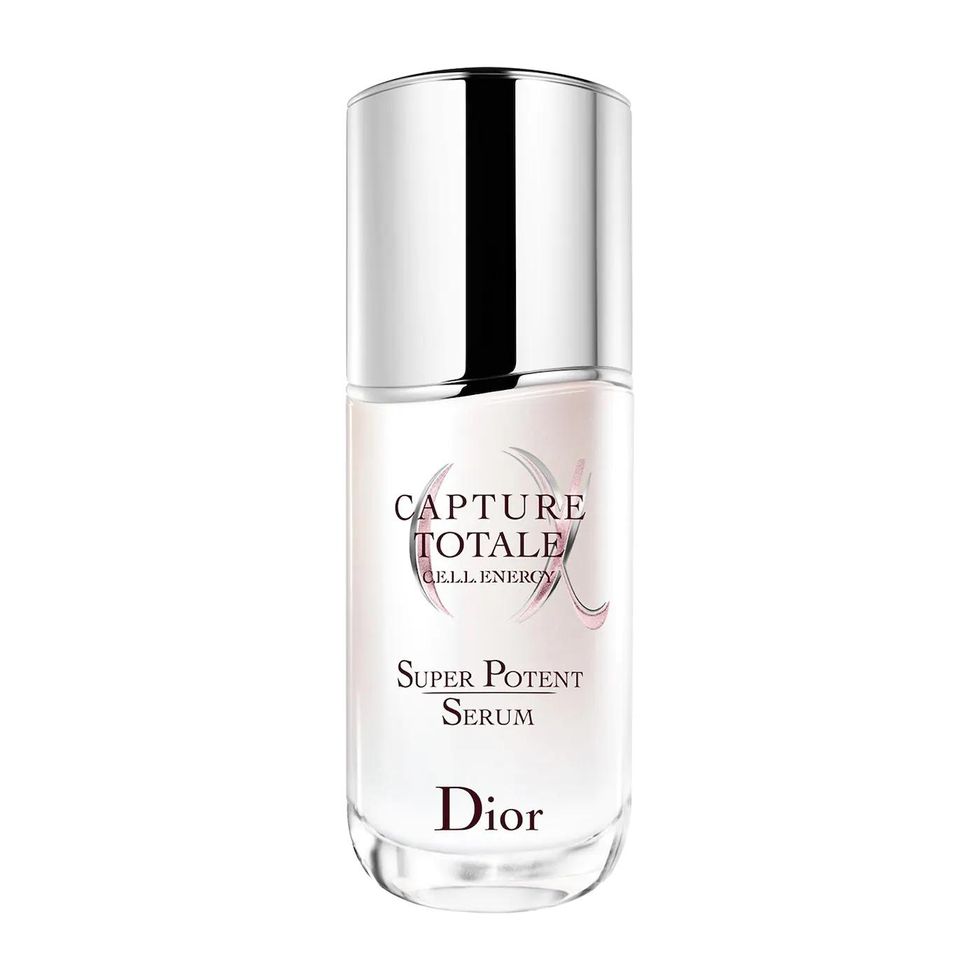 "My face has been so clear since I started using this product. I completely stopped popping, which is amazing. I just learned that if you apply the serums when your face is still wet, your skin absorbs the product better, so when I get out of the shower, I try to put it on as fast as possible.
Dior
Moisturizing cream by the sea
"I love that this moisturizer is so thick and rich, but it doesn't feel greasy on the skin. Every time I use it, my skin is literally so smooth, like a baby's butt. It's like an instant skin update; my face immediately looks fresher. I rub it before applying makeup: it's the perfect base. "
Sea
Super Serum Skin Tint Foundation SPF 40
"I feel like this foundation is like using a filter on the skin. Everything is blurry and you are bright. With other foundations, you can feel them weigh down your face and I hate it. This tint is so light; I mix it up, then I hit on a powder afterwards and it suits my skin so well. Plus, it contains ingredients that are really good for your skin. It's not just a make-up product. "
Ilia
Intense Ink waterproof liquid eyeliner
"Some eyeliners will say they are black, but the pigments are never true black. So, it's hard for me to find one that really stands out on my skin. When I discovered this cover, it was love at first sight. It's so pigmented and the staying power is crazy. I just bought a whole pack.
Sefora collection
Hydra Beauty Nourishing Lip Care
"My lips get so dry, especially in the winter, so I always touch it. It is so moisturizing. I rub it on my lips, then take a towel and blot the excess product before applying the lipstick. And instead of reapplying the lipstick, I'll keep it in my bag and put it on when I need it.
CHANEL
Shade Slick Vegan tinted lip oil
"I'm a girl with lipsticks, but when I don't feel like wearing one, this is my point of reference. I am always asked what I have on my lips when I apply it. It feels so good on your lips and it doesn't dry out. I'll put it on my cheeks too, for some subtle color. "
Merit
Strictly Curls Curl Envy Perfect Curl Cream
"Since I have extensions, I don't do much with my hair. This is the only styling product I use. I take some water and mix it with this cream, then curl it in my hair. It's super light and keeps my hair wavy without getting frizzy over the course of the day.
Marco Antonio
window.REBELMOUSE_ACTIVE_TASKS_QUEUE.push(function(){
var makeMonitor = (getStatus, cb, delay) => { delay = delay || 100; var monitor = () => { var time = +new Date(); var status = getStatus(); if (status) { return cb(status); } else { if (!stopMonitor && +new Date() - time < 30 * 60 * 1000) { monitorId = setTimeout(monitor, delay); } else { cb(false); } } }, cancel = () => { stopMonitor = true; clearInterval(monitorId); }; let monitorId, stopMonitor = false; return { start: monitor, cancel: cancel, }; };
var leftArrowCarrousel = makeMonitor( function () { return document.querySelector( ".shop-sidebar.shop-posts .posts-wrapper .slick-next" ); }, function (res) { res.addEventListener("click", () => { gtag("event", "Left Arrow Click", { event_category: "Shopping Module", event_label: "Previous product at carrousel", }); }); } );
leftArrowCarrousel.start();
var rightArrowCarrousel = makeMonitor( function () { return document.querySelector( ".shop-sidebar.shop-posts .posts-wrapper .slick-prev" ); }, function (res) { res.addEventListener("click", () => { gtag("event", "Right Arrow Click", { event_category: "Shopping Module", event_label: "Next product at carrousel", }); }); } );
rightArrowCarrousel.start();
var buyButton = makeMonitor( function () { return document.querySelectorAll( ".shop-sidebar.shop-posts .posts-wrapper .widget__product-buy-link-btn" ); }, function (res) { for (let button of res) { button.addEventListener("click", () => { gtag("event", "Buy button click", { event_category: "Shopping Module", event_label: `${button["href"]}`, }); }); } } );
buyButton.start();
var imageShopp = makeMonitor( function () { return document.querySelectorAll( ".shop-sidebar.shop-posts .posts-wrapper .widget__head a" ); }, function (res) { for (let image of res) { image.addEventListener("click", () => { gtag("event", "Image click", { event_category: "Shopping Module", event_label: `${image["href"]}`, }); }); } } );
imageShopp.start();
var productTitle = makeMonitor( function () { return document.querySelectorAll( ".shop-sidebar.shop-posts .posts-wrapper .widget__headline .widget__headline-text" ); }, function (res) { for (let product of res) { product.addEventListener("click", () => { gtag("event", "Product title click", { event_category: "Shopping Module", event_label: `${product["href"]}`, }); }); } } );
productTitle.start();
});
window.REBELMOUSE_ACTIVE_TASKS_QUEUE.push(function(){
window.REBELMOUSE_STDLIB.loadExternalScript("https://s.skimresources.com/js/150311X1615657.skimlinks.js", function() {
});
});
window.REBELMOUSE_ACTIVE_TASKS_QUEUE.push(function(){
!function(f,b,e,v,n,t,s){if(f.fbq)return;n=f.fbq=function(){n.callMethod?n.callMethod.apply(n,arguments):n.queue.push(arguments)};if(!f._fbq)f._fbq=n;n.push=n;n.loaded=!0;n.version='2.0';n.queue=[];t=b.createElement(e);t.async=!0;t.src=v;s=b.getElementsByTagName(e)[0];s.parentNode.insertBefore(t,s)}(window, document,'script','https://connect.facebook.net/en_US/fbevents.js');fbq('init', '1248680838922690');fbq('track', 'PageView');
});
window.REBELMOUSE_ACTIVE_TASKS_QUEUE.push(function(){
window.REBELMOUSE_STDLIB.onElementInViewport({ threshold: 400, selector: "video", oneTime: true, onIntersect: function(entry){ var element = entry.target; element.setAttribute("allow","autoplay"); element.loop = true; element.muted = true; element.autoplay = true; element.setAttribute("playsinline","true"); //element.controls = false; element.play(); } });
});