Dressing for winter, especially in the COVID era, as we don't attend many internal events or maybe don't even go to the office, can be depressing. All everyone sees in my wardrobe is the outerwear I wear to buy wine at the liquor store down the block. But as the long winter months approach, I refuse to wear just that black puffer jacket we all own. Time to spice things up, even if it's just for my fellow dog park patrons. Below, our staff members give their favorite coats and jackets to save you from the sartorial monotony of the cold.
Shangrila Puffer
I've been obsessed with all the colorful offerings of the Yali tribe for quite some time now, particularly what they call their "pallacci". The red and white color has been in my cart for a few months now …
Yali tribe
Fontizi flannel oversize coat
I marked the red and blue version of this coat a few years ago at a Forty Five Ten sale in Dallas and still have it in strong rotation. Basically a giant fleece, the plaid pattern instantly elevates a simple turtleneck sweater and jeans.
Isabel Marant Etoile
Kristy jacket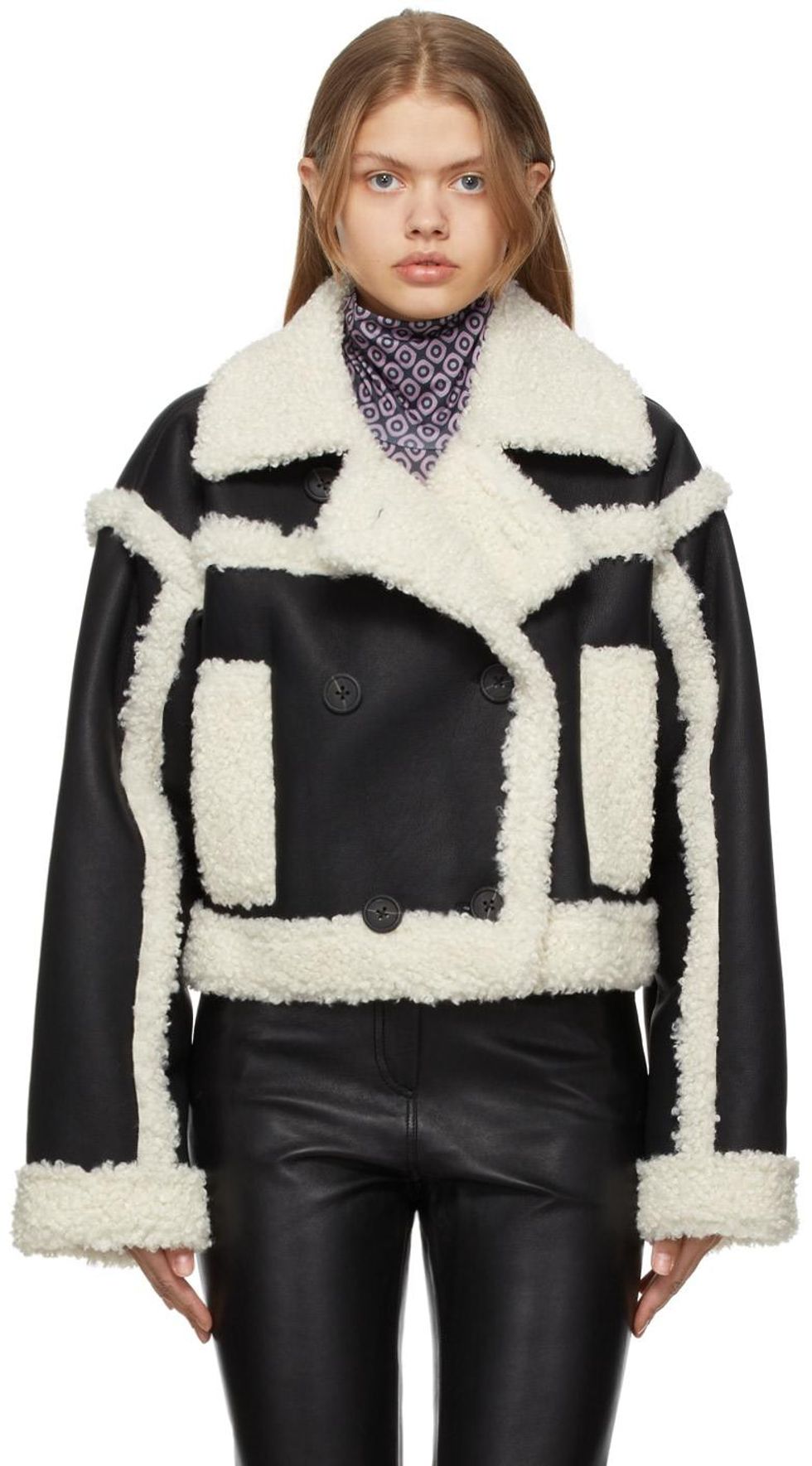 Another off-season selling score (via Moda Operandi), a very similar version to this black and white Stand Studio jacket offers the perfect monochromatic touch to any look. I took the measurements so that I could slip a million layers under this jacket to survive the winter outdoor dinners.
Stand Studio
Appalachian jacket
I've always loved jackets with fringes, but sometimes they can seem a little too elegant and I have a hard time figuring out how to wear them. This piece by Bode is beautifully crafted and the shade of green makes it a little different and a lot easier to incorporate into my existing wardrobe.
Bode
Curly shearling coat with high collar
I love shearling in winter, perfect for keeping warm without sacrificing style. This black garment can be worn again and again without getting tired and will never go out of style, it is worth investing for the seasons to come.
Ray
Short jacket with teddy bear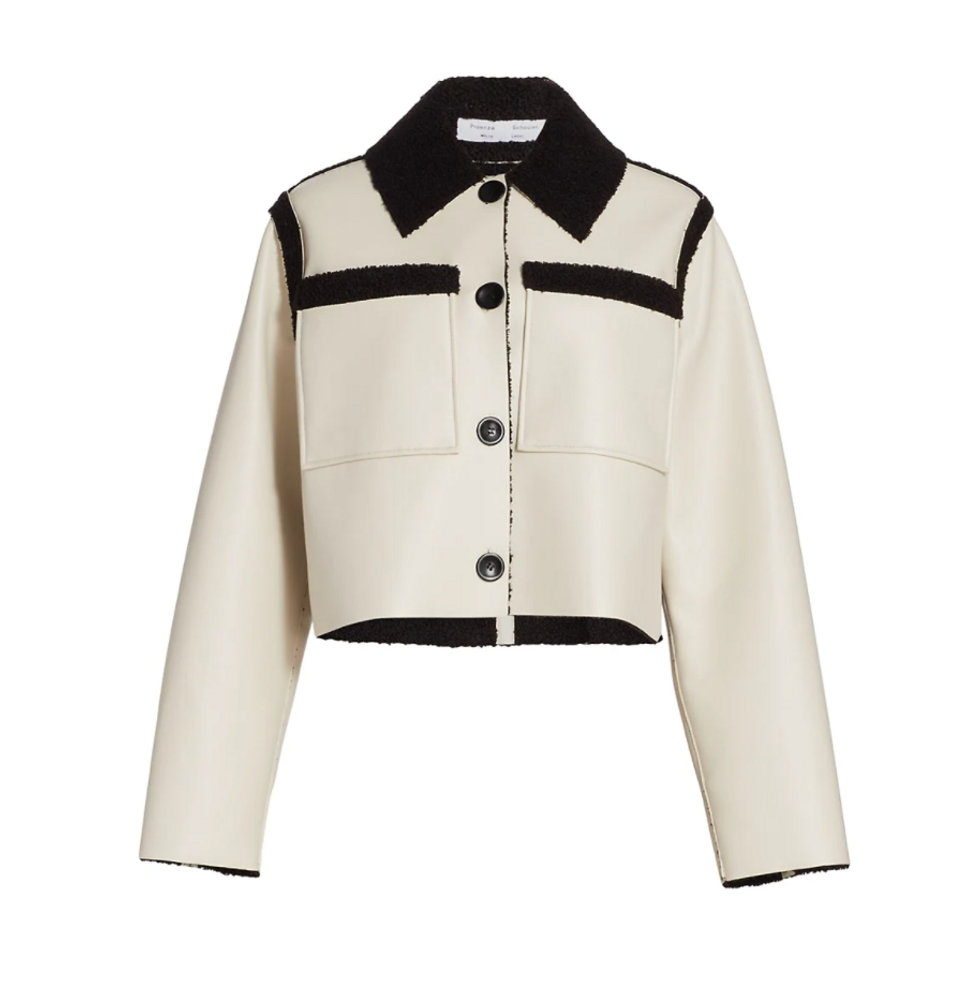 I love this white winter moment and the boxy cut makes it easy to wear underneath if you need a little extra warmth. I also love the contrasting black details and the pockets on the front.
Proenza Schouler white label
Jahaira camouflage coat
Look up the phrase "statement coat" in the dictionary and I'm pretty sure you'll see this faux fur spotted number next to it. The camouflage print adds a fun touch to the timeless silhouette of the coat, plus you can pair it with anything. Cover it over the sweatshirt during a coffee run to elevate your outfit while remaining ultra-cozy.
Appeared
Paioù 'The Jacket' Jacket
With an exaggerated silhouette and an Easter egg blue hue, this cropped jacket is as trendy as it is practical. The shearling lining and insulation padding will envelop you in warmth as you face the cold outside temperatures.
Giacomo
Adriano Coat
This is the ultimate multitasking coat. The sleeves and hem are detachable, giving you several options when it comes to wearing the look. Over the shoulder or arms in the sleeves? Waist length or extra long? With this jacket, you don't have to choose.
LPA
Leather jacket with custom logo
Classic leather jackets have been part of my wardrobe both professional and off-duty for as long as I can remember. But the time has come to create something custom to celebrate a series of new cover cabinets, brand partnerships and team leaders at Coveteur … Enter: The Jacket Maker. The Jacket Maker's customization experts couldn't have been better to work with and this has just become my favorite piece of clothing.
The jacket manufacturer
Short down jacket
Every year, I make sure I have a short comforter within arm's length of my front door. While this won't be the piece of clothing that will get me through hours hiking in the snow, it will definitely come in handy for a short walk to the mailbox, a short run in bad weather, or an athleisure moment ready for selfies. This light gray puffer jacket is also a bargain!
Zara
Quilted shell down jacket with belt and Caprier hood
I literally have to want to leave home on those cruel winter days when the temperature drops below 30 degrees. I grew up in Florida, so on cold days, a short trip to the grocery store can feel like a trek through the Arctic tundra. That's when a long puffer jacket is a must and I love how this Moncler will make a subtle style statement in army green.
Moncler
Vinyl trucker jacket
I loved last year's Courrèges craze and this update on their classic silhouette is adorable. Paired with a thick sweater, I can get away with wearing this jacket on warmer winter days and early spring. All I need now to complete the look is a Vespa and a mod dude to ride her while I look fab holding on to her waist.
Courrèges
Velvet coat
I guess Tom Holland would wear this coat in Jim Jarmusch's sexy and menacing vampire movie, Only the lovers remain alive. When going to see music is less of a public health risk, I'll pair it with something short and black and live my immortal rock star fantasy.
Hill Road
Double-breasted sheepskin coat
This coat is unique but not too crazy for everyday use and the color goes well with most wardrobe essentials. Foolproof compliment!
Furling of Ganni
window.REBELMOUSE_ACTIVE_TASKS_QUEUE.push(function(){
var makeMonitor = (getStatus, cb, delay) => { delay = delay || 100; var monitor = () => { var time = +new Date(); var status = getStatus(); if (status) { return cb(status); } else { if (!stopMonitor && +new Date() - time < 30 * 60 * 1000) { monitorId = setTimeout(monitor, delay); } else { cb(false); } } }, cancel = () => { stopMonitor = true; clearInterval(monitorId); }; let monitorId, stopMonitor = false; return { start: monitor, cancel: cancel, }; };
var leftArrowCarrousel = makeMonitor( function () { return document.querySelector( ".shop-sidebar.shop-posts .posts-wrapper .slick-next" ); }, function (res) { res.addEventListener("click", () => { gtag("event", "Left Arrow Click", { event_category: "Shopping Module", event_label: "Previous product at carrousel", }); }); } );
leftArrowCarrousel.start();
var rightArrowCarrousel = makeMonitor( function () { return document.querySelector( ".shop-sidebar.shop-posts .posts-wrapper .slick-prev" ); }, function (res) { res.addEventListener("click", () => { gtag("event", "Right Arrow Click", { event_category: "Shopping Module", event_label: "Next product at carrousel", }); }); } );
rightArrowCarrousel.start();
var buyButton = makeMonitor( function () { return document.querySelectorAll( ".shop-sidebar.shop-posts .posts-wrapper .widget__product-buy-link-btn" ); }, function (res) { for (let button of res) { button.addEventListener("click", () => { gtag("event", "Buy button click", { event_category: "Shopping Module", event_label: `${button["href"]}`, }); }); } } );
buyButton.start();
var imageShopp = makeMonitor( function () { return document.querySelectorAll( ".shop-sidebar.shop-posts .posts-wrapper .widget__head a" ); }, function (res) { for (let image of res) { image.addEventListener("click", () => { gtag("event", "Image click", { event_category: "Shopping Module", event_label: `${image["href"]}`, }); }); } } );
imageShopp.start();
var productTitle = makeMonitor( function () { return document.querySelectorAll( ".shop-sidebar.shop-posts .posts-wrapper .widget__headline .widget__headline-text" ); }, function (res) { for (let product of res) { product.addEventListener("click", () => { gtag("event", "Product title click", { event_category: "Shopping Module", event_label: `${product["href"]}`, }); }); } } );
productTitle.start();
});
window.REBELMOUSE_ACTIVE_TASKS_QUEUE.push(function(){
window.REBELMOUSE_STDLIB.loadExternalScript("https://s.skimresources.com/js/150311X1615657.skimlinks.js", function() {
});
});
window.REBELMOUSE_ACTIVE_TASKS_QUEUE.push(function(){
!function(f,b,e,v,n,t,s){if(f.fbq)return;n=f.fbq=function(){n.callMethod?n.callMethod.apply(n,arguments):n.queue.push(arguments)};if(!f._fbq)f._fbq=n;n.push=n;n.loaded=!0;n.version='2.0';n.queue=[];t=b.createElement(e);t.async=!0;t.src=v;s=b.getElementsByTagName(e)[0];s.parentNode.insertBefore(t,s)}(window, document,'script','https://connect.facebook.net/en_US/fbevents.js');fbq('init', '1248680838922690');fbq('track', 'PageView');
});
window.REBELMOUSE_ACTIVE_TASKS_QUEUE.push(function(){
window.REBELMOUSE_STDLIB.onElementInViewport({ threshold: 400, selector: "video", oneTime: true, onIntersect: function(entry){ var element = entry.target; element.setAttribute("allow","autoplay"); element.loop = true; element.muted = true; element.autoplay = true; element.setAttribute("playsinline","true"); //element.controls = false; element.play(); } });
});