FIFA and UEFA remain at opposite angles over the feasibility of a two-year World Cup after releasing reports on Friday with starkly conflicting conclusions.
UEFA warned of a "deeply negative outlook" for international football if FIFA's proposal receives the green light before the world governing body holds its global summit with national associations on Monday.
The FIFA fan poll found a generally positive response for a more frequent World Cup tournament as long as player workload has not increased.
However, more of the negative results came from Europe, where there was a minority (48%) in favor of a biennial event and three major football nations – England, Germany and France – provided the strongest disapproval score. . Only 10% of respondents in England were in favor.
Supporters from Africa (76% in favor) and Asia (66%) were the most positive.
There was also an age bias in FIFA results, with younger age groups in favor of more World Cup finals and those over the age of 55 most against.
FIFA's proposals will be discussed on Monday by its member associations as part of the consultation on the future of the world football calendar.
Arsene Wenger says he understands why some are concerned about his proposals to organize a World Cup every two years, but insists it is in the best interest of football.

UEFA's study was completed by consultancy firm Oliver and Ohlbaum and the European governing body said the results are "alarming" and "raise serious concerns about the sustainability of the plan for European associations", as well as raising questions for other sports, a concern previously proposed by the International Olympic Committee.
It came on the same day that talks between UEFA and South American governing body CONMEBOL on the latter's entry into the UEFA Nations League competition were confirmed.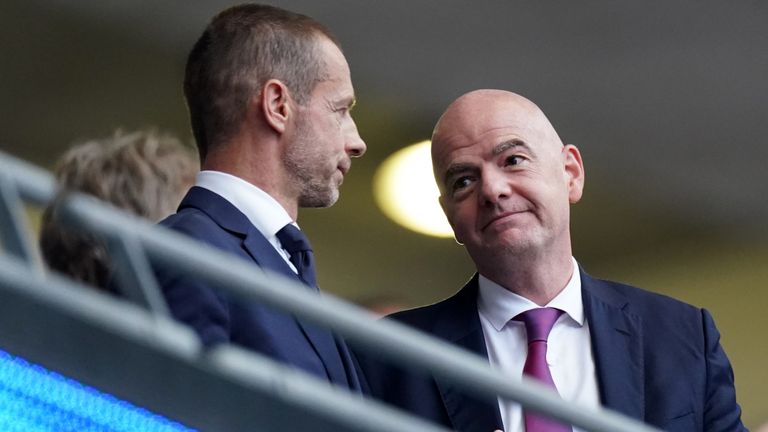 The report stated that only 25% of fans in Europe thought a two-year World Cup was an improvement, while 40% said they would see fewer knockout and group matches, and 60% thought Cup prestige. of the World would have diminished.
Their statement read: "In this dark sporting context, the research conducted by Oliver & Ohlbaum projects a profoundly negative outlook for European national football if the FIFA plan is implemented.
"Adding the losses from centralized revenues (average rights of the European Men's Qualifiers and Nations League; distributions from UEFA EURO) and from individual sources such as ticketing and sponsorships, the revenues for European national associations could drop between 2.5 and 3 billion. euros in a four-year cycle, depending on the number of enabling windows available (two or only one).
"Taking up the clear objections expressed by European stakeholders on several occasions and the firm and motivated opposition announced by fan organizations, UEFA believes that radical changes should only be proposed if they translate into clear and indisputable benefits for the game and its players."