In today's national columnist of Fact or Fiction Mike Farrell examines three recent big topics in college football and decides if the claim is really DONE or if it's FICTION.
1. I was a bit hasty in my Texas A&M conviction.
Farrell's Opinion: DONE. I came out pretty strong against the Aggies last week when they canceled their Gator Bowl appearance against Wake Forest. After all, I argued, Mississippi State and LSU went ahead and played despite limited rosters in 2020. Hawaii, Miami, Virginia, and Boston College have had to forgo games since then due to limited rosters, so maybe I was a little quick in judging.
I still hold Texas A&M at a higher level than these other programs simply because of the bowl level it is set to play at and the level of the opponent. Initially, it looked like the Aggies could have waited longer to make a decision but, in hindsight, they actually made a quick decision that allowed the Demon Deacons to find a new bowl opponent.
No, Rutgers isn't Texas A&M and the Aggies are a far more important national program than Hawaii, Virginia or Boston College, but in light of these other cancellations, being the first to cancel isn't as absurd as I initially thought.
SHARE YOUR THOUGHTS WITH A&M TEXAS FANS AT AGGIEYELL.COM
*****
2. This is as bad as it has been for Florida since 2017.
Farrell's Opinion: DONE. Losing to a very average UCF team in a bowling match is bad, and that's exactly how the Gators ended this terrible 6-7 season. The Knights have long sung that they are a better state program than Florida, so losing to the "National Champions 2017" gets kicked out while on the ground.
The awful 2017 season for the Gators, when they finished 4-7 (3-5 in SEC) in Jim McElwainLast season, it was worse. The Gators of 2014 below Will Muschamp they were even worse than that, but that's still pretty bad. Dan Mullen he was expected to make a push for SEC East, but was fired instead and Billy Napier it has some ugliness to clean up.
SHARE YOUR THOUGHTS WITH FLORIDA FANS AT 1ST AND TEN FLORIDA
*****
3. Deamonte Trayanum is making a mistake in changing positions.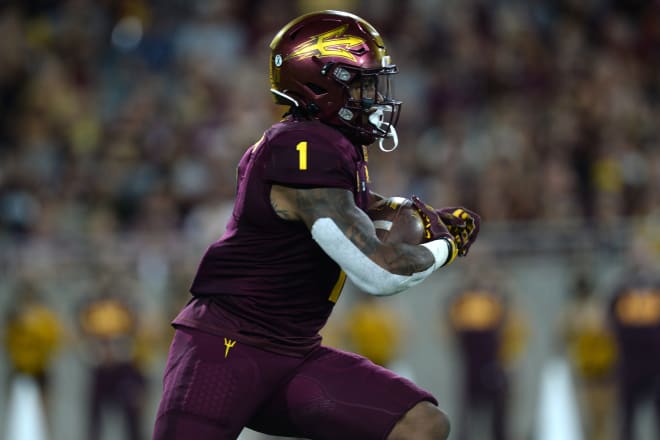 Farrell's version: FICTION. Deamonte Trayanum ran 691 yards in two seasons at Arizona State with 10 touchdowns and an average of 5.4 yards per carry, but decided to leave the Sun Devils to return home to Ohio and play for the Buckeyes as a linebacker. And he's not making a mistake as many Sun Devils fans say.
Linebackers last much longer in football than running backs and are often selected more in the first four rounds of the NFL Draft. And if Trayanum becomes a starter for the Buckeyes, you can bet he'll get a lot of attention in the NFL.
Trayanum is a little short of linebacker by NFL standards at 5-foot-11, but it doesn't matter if he shows athleticism and makes games. Eno Benjamin was fantastic at Arizona State for two seasons as a running back, but was picked in the seventh round. Trayanum may end up as a better choice.
SHARE YOUR THOUGHTS WITH OHIO FANS STAY ON SCARLETANDGREYREPORT.COM