In today's national columnist of Fact or Fiction Mike Farrell examines three recent big topics in college football and decides if each statement is really DONE or if it's FICTION.
1. Oklahoma could be in big trouble.
Farrell's Opinion: DONE. Well, "big trouble" is relative, but that's not good for Oklahoma. Star players like Caleb Williams and Mario Williams headed to the transfer portal don't show much confidence in the Sooners attack without Lincoln Riley.
And, as everyone can surely see, Riley's offense is what made OU's success during his tenure. Now maybe, with Brent Venables leading the charge, the defense will improve and the defensive recruitment will improve. But the attack will still be king in the Big 12 and at the bottom of the SEC. Let's see if the Sooners remain an offensive magnet for elite recruits.
SHARE YOUR THOUGHTS WITH OKLAHOMA FANS ON SOONERSCOOP.COM
*****
2. Jim Harbaugh will go to the NFL.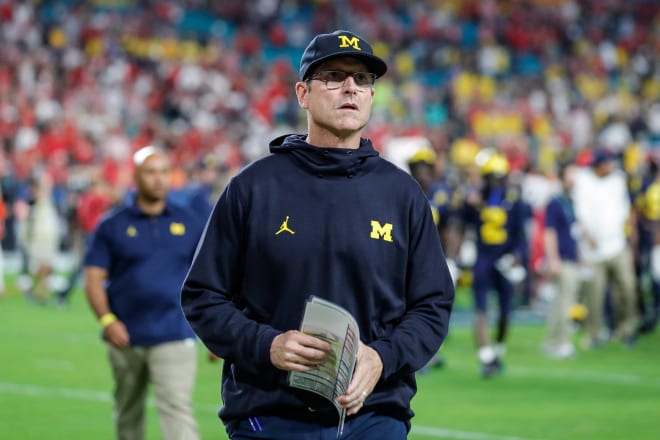 Farrell's version: FICTION. I don't buy it. Jim Harbaugh took a pay cut last year and took his team to the playoffs this year, so obviously a posture will occur. And, yes, the college coaching job isn't as attractive as it was a few years ago with the transfer portal and the NIL, but Harbaugh is a Michigan man and he still has work to do in Ann Arbor.
He might be a better coach in the NFL, but I can't see him leaving the Wolverines after taking them this far.
SHARE YOUR THOUGHTS WITH MICHIGAN FANS ON MAIZEANDBLUEREVIEW.COM
*****
3. Caleb Williams will end up in the west.
Farrell's Opinion: DONE. I guess, ok? I feel the USC as a potential landing spot for Williams because of Riley, but I also feel UCLA as much or more now. And if Williams wants NIL and offensive comfort, he can't go wrong in either case.
Georgia is there as well as there are others, but with two programs in Los Angeles that seemingly pique Williams' interest, I'll cover my bets.