Being a resident of the Upper East Side, a walk down Madison Avenue always prompts me to stop and look in front of Gabriela Hearst's flagship store. While always stunning, it's not the clothes that catch my eye, but the sparkling collection of crystals that open on a table in front of the house in full view of the street. A reflection of the latter half of the rainbow, each mineral is completely unique compared to its counterparts. Jagged or smooth, clear or dull, large or small. From my point of view, the collection acts as a kind of portal into Hearst's mind and creative process, sometimes even more so than fashion itself.
Proof of this lies in its designs where you'll find belts adorned with sliced ​​agate and crystal-embellished sheath dresses. This love affair with minerals and stones also led to the discovery of American icon and art dealer Hester Diamond, who exerted a significant influence on Hearst's Spring '22 collection. "Nature always offers the most breathtaking beauty that human eyes can see," Hearst said in his show notes. So it seems fitting for the designer to show these passions in her shop, comparing the space more to a museum or at least a creative experience than a simple transactional atmosphere.
Photo: Courtesy of Gabriela Hearst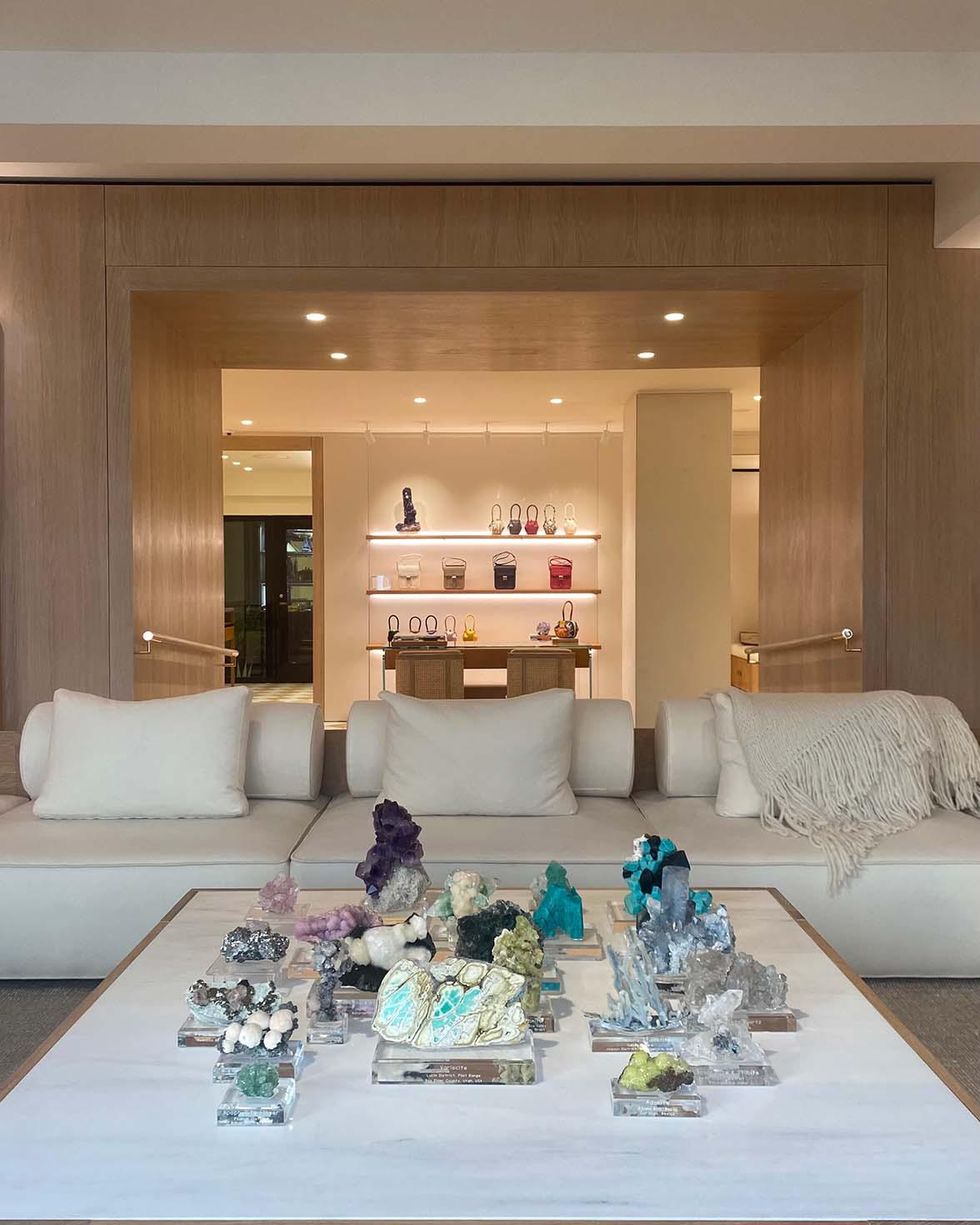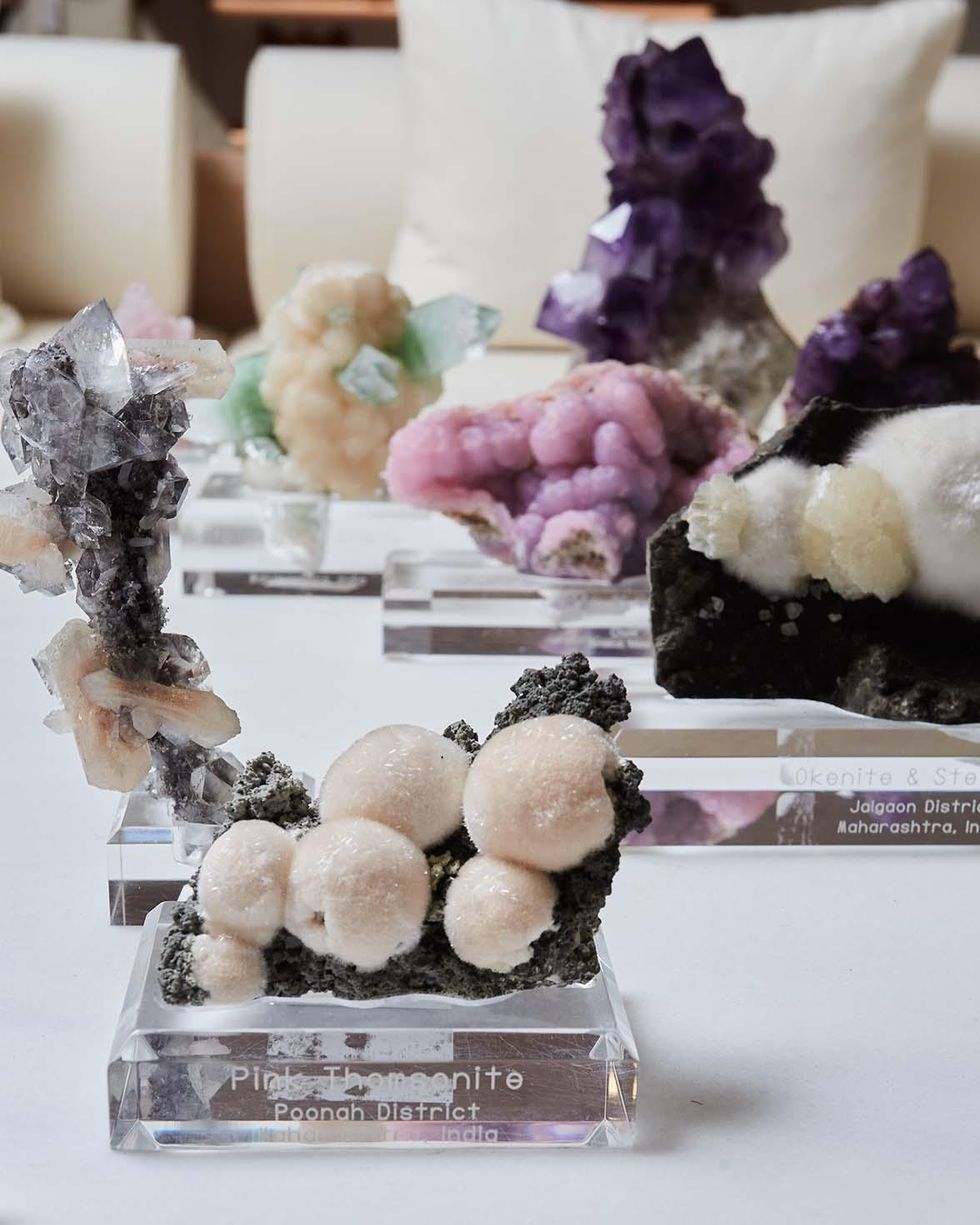 In the wake of museum-like artifacts, foot traffic on Dallas' Main Street (in Dallas, Texas) might believe they've stumbled upon an art gallery rather than a fashion boutique when passing multi-brand retailer Forty Five Ten. Before shoppers even cross the threshold, they are greeted by the kinetic wind-powered sculpture Lucea, commissioned by artist Anthony Howe.
Beyond their sartorial offerings (ranging from Dries Van Noten to Saint Laurent to Erdem), the goal of the design process can be summed up as an effort not to overshadow, but instead complement or frame the fashion. "The boldest design moves are found in museum-quality works of art and sculptures by the likes of Jose Davila, Ugo Rondinone, Tony Tasset, Ryan Nord Kitchen, Aaron Curry, Rainer Judd and many more," says the president and COO Anne Wallach. "We are looking for luxury finishes and, when not custom made, furniture by designers such as Bertoia and Frank Gehry. Other interior features include Suro Ceramics tiles, Arabescato marble, and a custom ornamental glass staircase.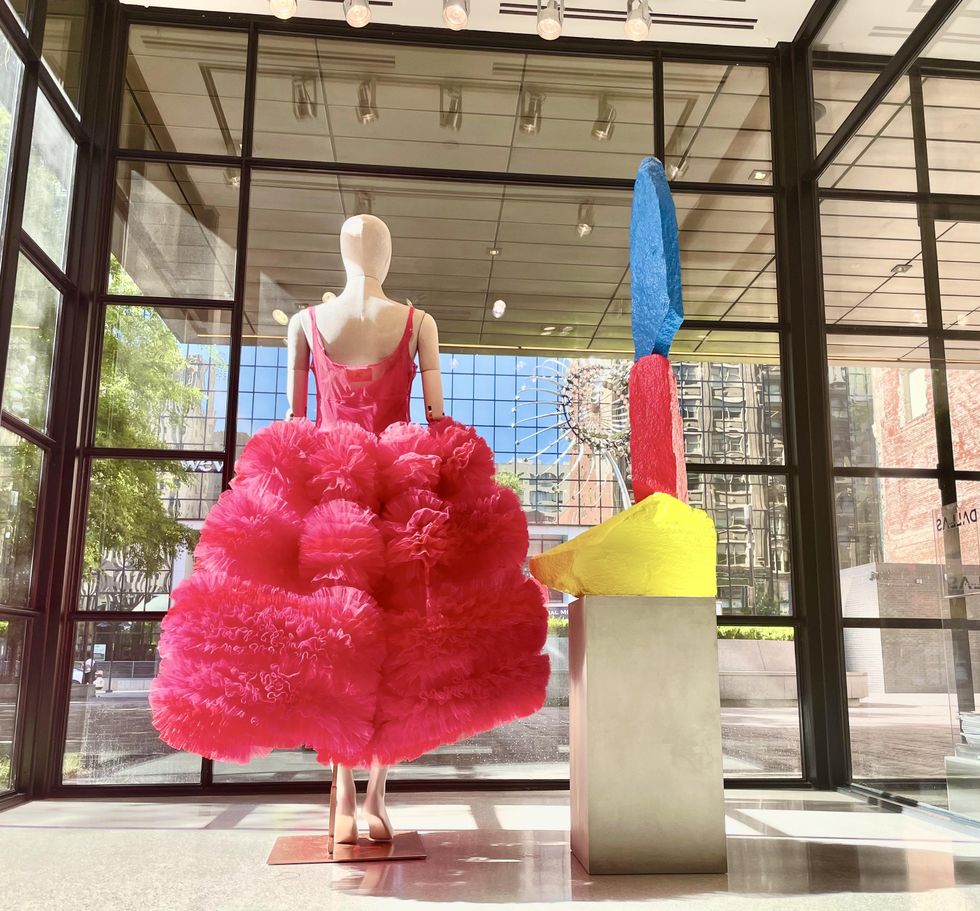 Photo: Courtesy of Forty Five Ten
Art, a form of creative expression not far from fashion, is often a primary concern, as in the case of the sustainable locations of Another Tomorrow's West Village. "Art is a combination of our personal collections," explains Vanessa Barboni Hallik, founder and CEO of Necklace, as well as a number of [creative director] Giovanna [Chung]"Framed editions of the artist Wolfgang Tillmans" New world wallet. The books are also ours, from The catalog of the whole Earth, a deep personal reference from my childhood, a Vivane Sassen, a huge inspiration for Jane, for books on climate science, indigenous architecture and work written by a number of women that we have outlined through our Women for tomorrow series."
These boutiques allow founders, especially those with direct-to-consumer displays, to say more about themselves without using words. "I find a store to be a wonderful opportunity and a design challenge because it has to express a coherent story while welcoming a much wider range of human beings to engage in a rather specific set of experiences that need to be functional and enjoyable," he adds. Barboni Hallik, noting that the shop's goal is both to inspire and to tell a story.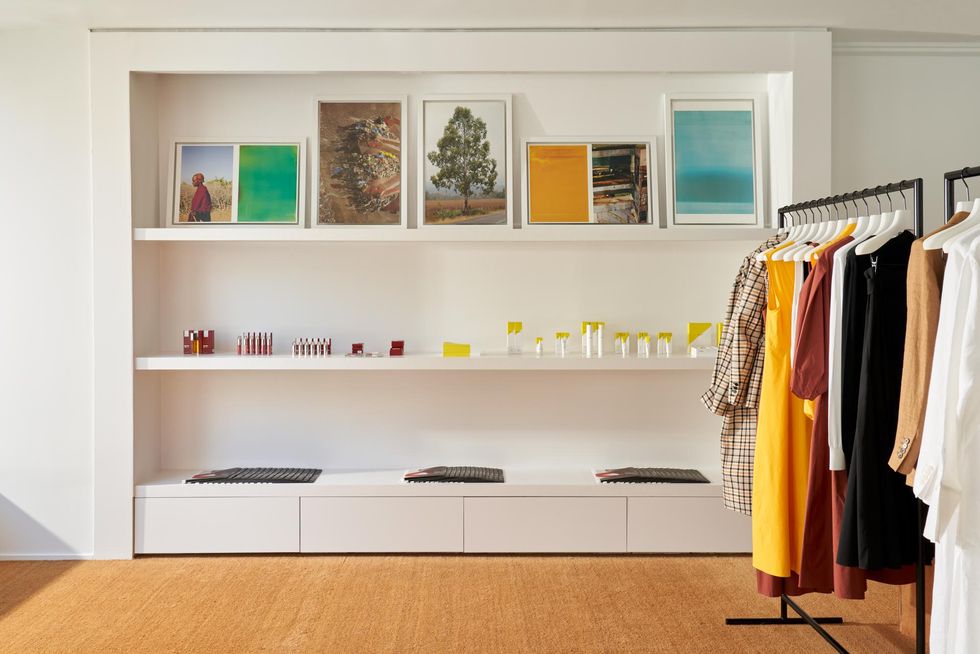 Photo: Courtesy of Another Tomorrow
In designer Mara Hoffman's first flagship store, you will find a set of plants that rivals any ready-to-wear collection. Instead of an interior designer or architect, Hoffman partnered with trusty landscape architect Kari Elwell of Mingo Designs to curate a botanical oasis in the middle of SoHo. "I think my design sensibility is always in step with plants", the designer tells us. "I feel they are medicinal just for the fact that they exist."
The other more traditional components of the store (eg hangers and displays) orbit around a device of the century: a large palm tree named Gloria, an "epic mom" as Hoffman describes it. A stepped architectural element at the back of the space serves as a home for cascading planters. "I wanted to create a space where you walk in and feel things as opposed to this commercialized experience where you are brought in to acquire more things." The store also hosts a rotating series of like-minded artists to further encapsulate the brand's ethics.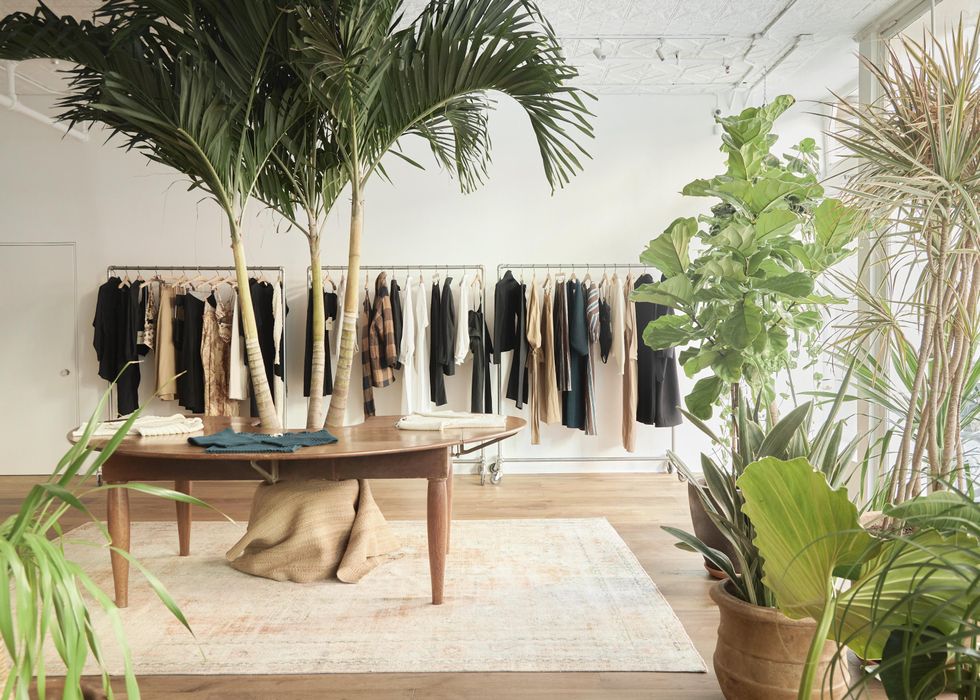 Photo: Courtesy of Mara Hoffman
We stumbled upon another intriguing collection not for sale at Beth Bugdaycay's Foundrae store. In addition to the fascinating display of fine jewelry available, the old books that once cluttered his apartment now line the walls of his Lispenard Street boutique. I'm so inspired by the books, "reveals Bugdaycay. "I love them for their design and the content is also an important part of my research." Like a library, visitors have the ability to actually check out the books. "There's a reason they go in and out without feeling compelled to buy anything."
Customers and, more often than not, those who queue up need a place to rest their weary souls, read: soles. Beyond the eclectic (and specific) collections come the furniture and furnishings. "Everything in our shop is my precious and collected personal object", adds the co-founder and creative director. "I have antiques, vintage pieces and works of art and sculptures by contemporary artists."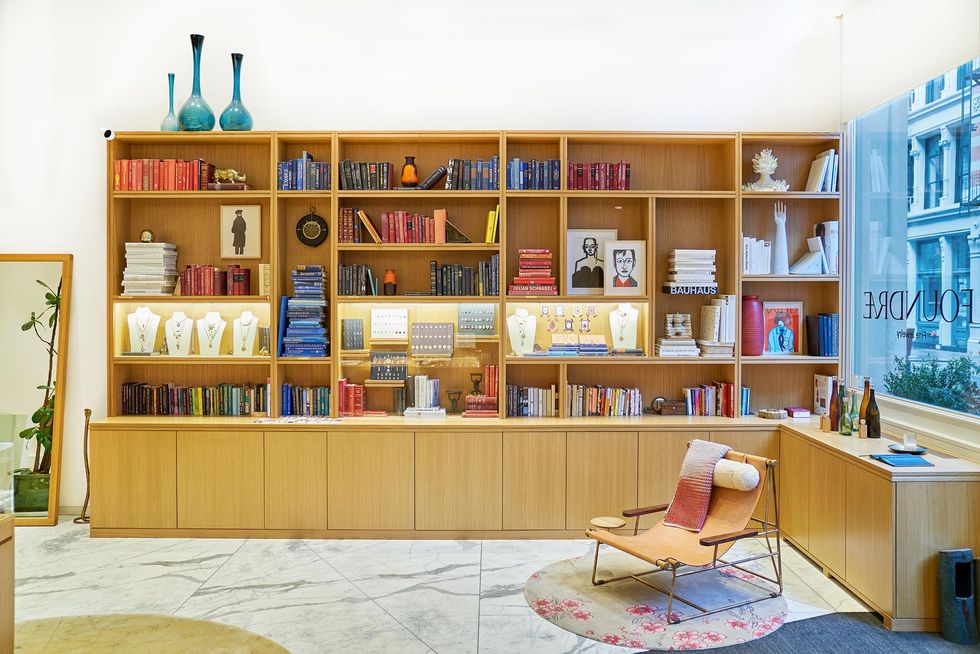 Photo: Courtesy of Foundrae
"All the elements in the store speak of influences that have inspired all of our different collections," says Marlo Laz designer Jesse Marlo Lazowski. "It's almost a peek inside my mind and how I collect travel, art and design memories that ultimately get channeled into jewelry projects." The Bleecker Street store houses Marlo Lazowski's personal collection, including a Sottsass mirror, a favorite carpet bought on a trip to Marrakech years earlier, and a vintage Platner chair salvaged from a historic Venetian fabric.
When curated by the designer's own mind, items can often play into current collections. "The wall lights in the second room of our shop are Italian vintage and when I saw them I was immediately attracted by the shape of the eye that came to mind. While not so obvious, to me they were the perfect nod to our Eyecon collection ".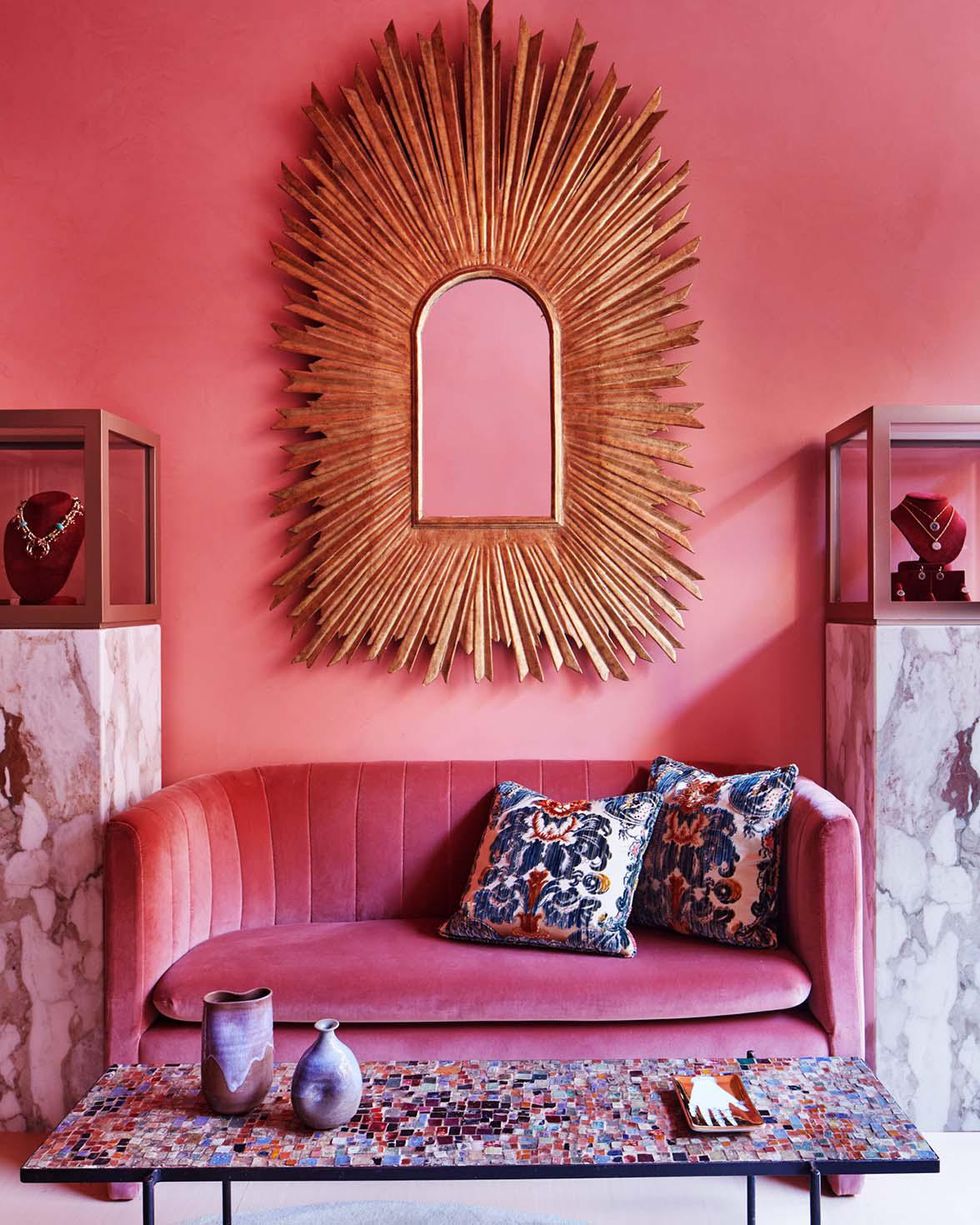 Photo: Courtesy of Marlo Laz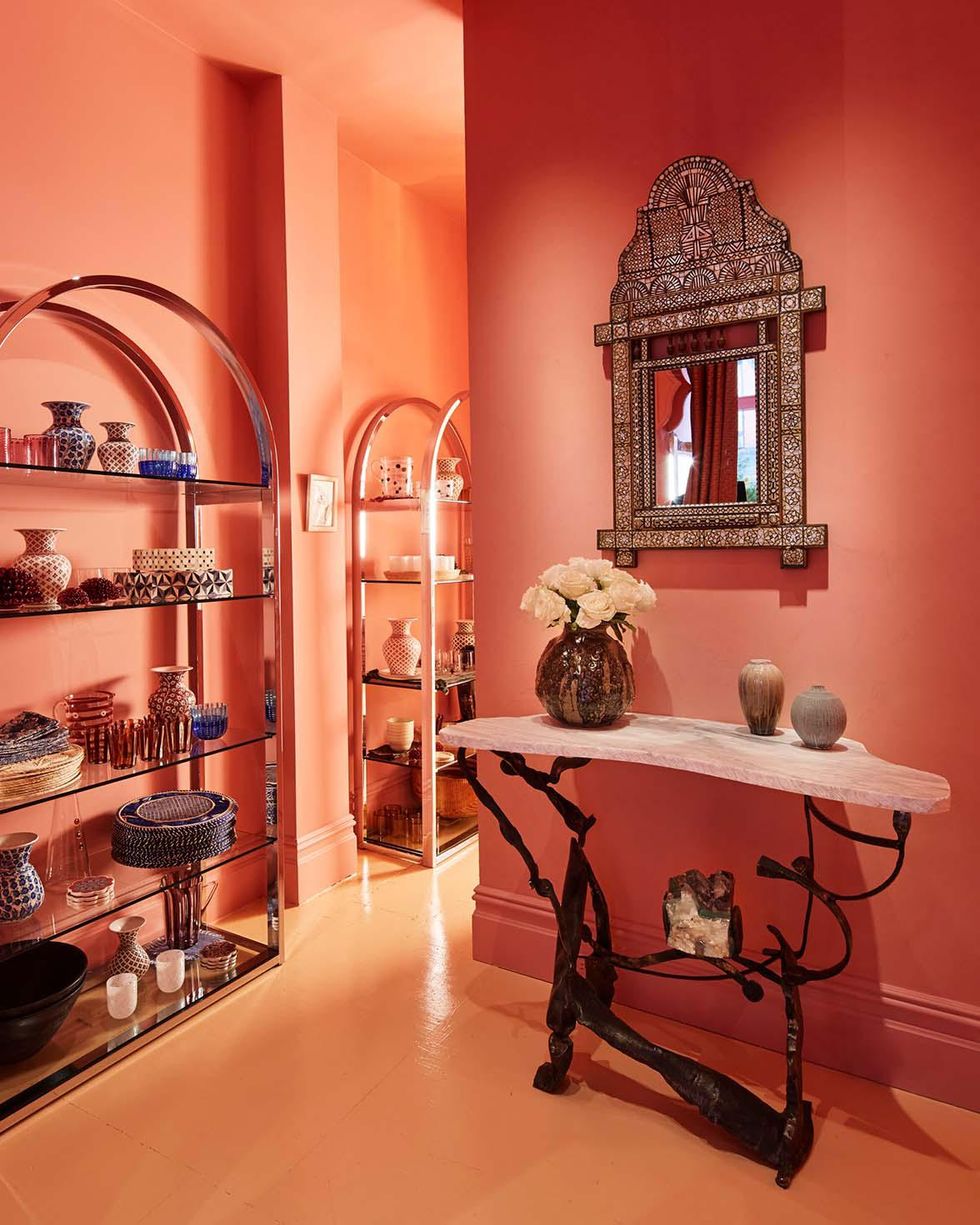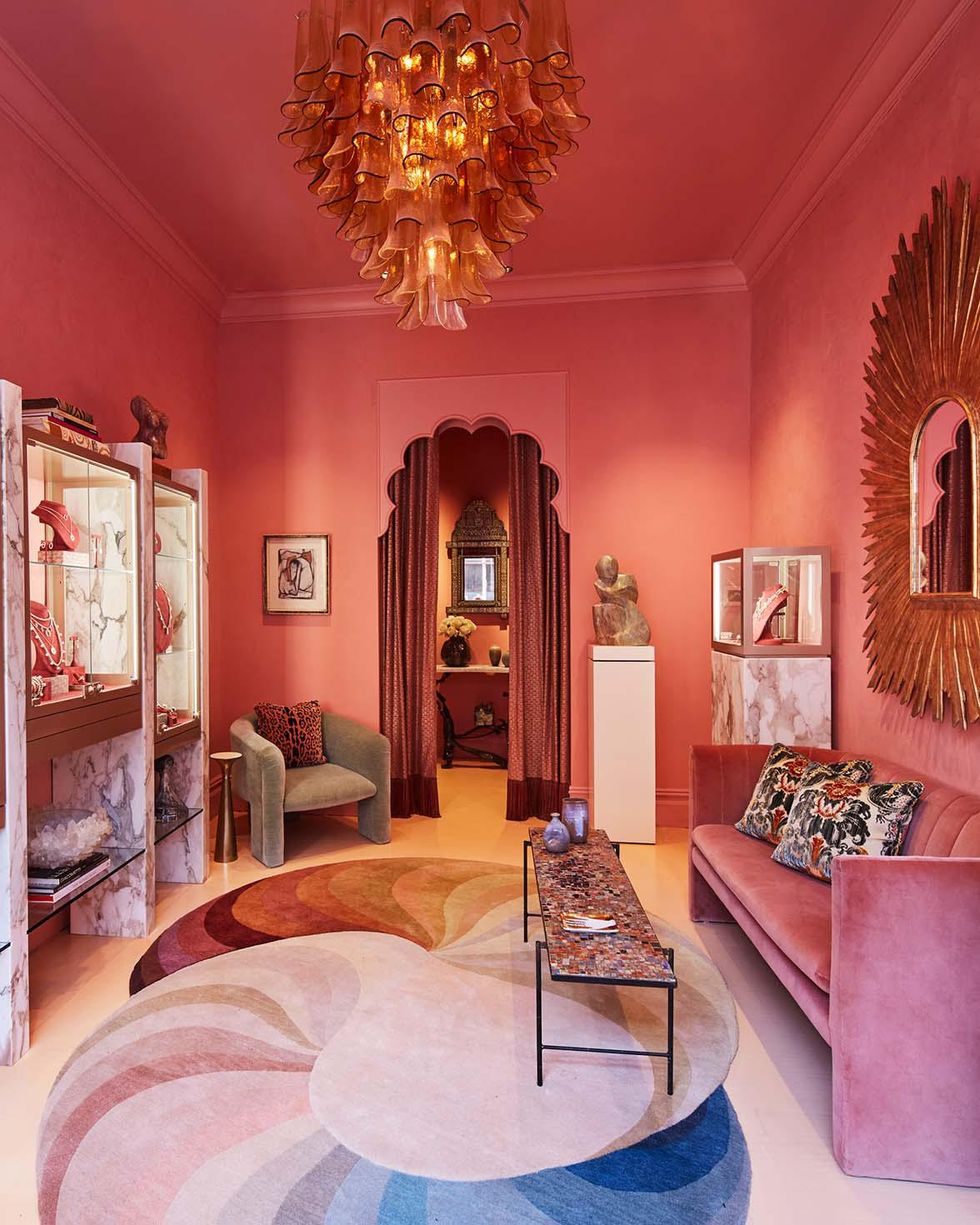 With an unsurprising find, these shops have all been curated by someone who sees the space as something like a house. "More than anything else, we want our customers to feel comfortable, so place interesting cartoons on the seats. seating, fresh flowers, music, art, sunlight are all things we think people love about their homes, "reiterates Wallach of Forty Five Ten. Highly conceptual stores are living, breathing modules that evolve as fashion does. "Just as we rearrange the furnishings and pieces in our homes to freshen up, we do the same here, moving and repositioning elements to give the space and garments a new light and perspective."
The common pressure to buy something pales in comparison to the desire to be inspired. It's no secret that brick-and-mortar offerings often go wrong with the experiential to attract customers, but these spaces aren't based on the latest in artificial intelligence or Instagram bait. Instead, they are allowing consumers to peek inside their creative processes, an effort achieved with items without a for sale sign. Basically, a shop should no longer look like a shop.
window.REBELMOUSE_ACTIVE_TASKS_QUEUE.push(function(){
var makeMonitor = (getStatus, cb, delay) => { delay = delay || 100; var monitor = () => { var time = +new Date(); var status = getStatus(); if (status) { return cb(status); } else { if (!stopMonitor && +new Date() - time < 30 * 60 * 1000) { monitorId = setTimeout(monitor, delay); } else { cb(false); } } }, cancel = () => { stopMonitor = true; clearInterval(monitorId); }; let monitorId, stopMonitor = false; return { start: monitor, cancel: cancel, }; };
var leftArrowCarrousel = makeMonitor( function () { return document.querySelector( ".shop-sidebar.shop-posts .posts-wrapper .slick-next" ); }, function (res) { res.addEventListener("click", () => { gtag("event", "Left Arrow Click", { event_category: "Shopping Module", event_label: "Previous product at carrousel", }); }); } );
leftArrowCarrousel.start();
var rightArrowCarrousel = makeMonitor( function () { return document.querySelector( ".shop-sidebar.shop-posts .posts-wrapper .slick-prev" ); }, function (res) { res.addEventListener("click", () => { gtag("event", "Right Arrow Click", { event_category: "Shopping Module", event_label: "Next product at carrousel", }); }); } );
rightArrowCarrousel.start();
var buyButton = makeMonitor( function () { return document.querySelectorAll( ".shop-sidebar.shop-posts .posts-wrapper .widget__product-buy-link-btn" ); }, function (res) { for (let button of res) { button.addEventListener("click", () => { gtag("event", "Buy button click", { event_category: "Shopping Module", event_label: `${button["href"]}`, }); }); } } );
buyButton.start();
var imageShopp = makeMonitor( function () { return document.querySelectorAll( ".shop-sidebar.shop-posts .posts-wrapper .widget__head a" ); }, function (res) { for (let image of res) { image.addEventListener("click", () => { gtag("event", "Image click", { event_category: "Shopping Module", event_label: `${image["href"]}`, }); }); } } );
imageShopp.start();
var productTitle = makeMonitor( function () { return document.querySelectorAll( ".shop-sidebar.shop-posts .posts-wrapper .widget__headline .widget__headline-text" ); }, function (res) { for (let product of res) { product.addEventListener("click", () => { gtag("event", "Product title click", { event_category: "Shopping Module", event_label: `${product["href"]}`, }); }); } } );
productTitle.start();
});
window.REBELMOUSE_ACTIVE_TASKS_QUEUE.push(function(){
window.REBELMOUSE_STDLIB.loadExternalScript("https://s.skimresources.com/js/150311X1615657.skimlinks.js", function() {
});
});
window.REBELMOUSE_ACTIVE_TASKS_QUEUE.push(function(){
!function(f,b,e,v,n,t,s){if(f.fbq)return;n=f.fbq=function(){n.callMethod?n.callMethod.apply(n,arguments):n.queue.push(arguments)};if(!f._fbq)f._fbq=n;n.push=n;n.loaded=!0;n.version='2.0';n.queue=[];t=b.createElement(e);t.async=!0;t.src=v;s=b.getElementsByTagName(e)[0];s.parentNode.insertBefore(t,s)}(window, document,'script','https://connect.facebook.net/en_US/fbevents.js');fbq('init', '1248680838922690');fbq('track', 'PageView');
});
window.REBELMOUSE_ACTIVE_TASKS_QUEUE.push(function(){
window.REBELMOUSE_STDLIB.onElementInViewport({ threshold: 400, selector: "video", oneTime: true, onIntersect: function(entry){ var element = entry.target; element.setAttribute("allow","autoplay"); element.loop = true; element.muted = true; element.autoplay = true; element.setAttribute("playsinline","true"); //element.controls = false; element.play(); } });
});