Coach Nicky Henderson won't be in a hurry to decide whether or not to direct star chaser Shishkin at Clarence House Chase in Ascot.
Desert Orchid Chase winner could potentially participate in a battle between Britain's and Ireland's best two-mile division, with Willie Mullins' Energumene aiming for grade one test on January 22, live on Sky Sport Racing.
The pair allegedly clashed at the Cheltenham Festival last year, but a last-minute setback saw Energumene skip the Arkle Novices chase as Shishkin took the win under Nico de Boinville.
"Sooner or later we will meet Energumene, there is no doubt about that," Henderson said Sky Sport Racing.
"We are considering Ascot. The other day went for a nice day out for a mile and a quarter on grass and looks in good shape.
"The plan is to work it over the weekend with Nico in the saddle.
"Before I went to Kempton, I wasn't 100% sure we got there. I don't think we were, I think there are a lot of improvements coming.
"It was just that last piece of work that convinced us we were ready to go. I think it will be the same.
"We will do what is best for the horse and if he says he is right and ready to go, we will face Energumene, First Flow and others.
"I'm not going to promise we'll go because I can't. I don't want to get into that debate again."
Sky Sports Racing's Matt Chapman believes Shishkin can't be beaten, but Patrick Mullins is confident Energumene is "as good as anything", with the pair poised for a potential clash at Ascot this month.

Henderson received criticism following Shishkin's decision not to race in his planned early season goal, the Tingle Creek Chase in Sandown last month.
At the time, the Seven Barrows manager blamed the lack of spark in Shishkin's work at a gallop and subsequent tests highlighted a real problem.
"I have a piece of paper here that will show you exactly why he didn't run Tingle Creek," Henderson explained.
"We had his windpipe washed and he had the most hideous figures. That tells you he was sick.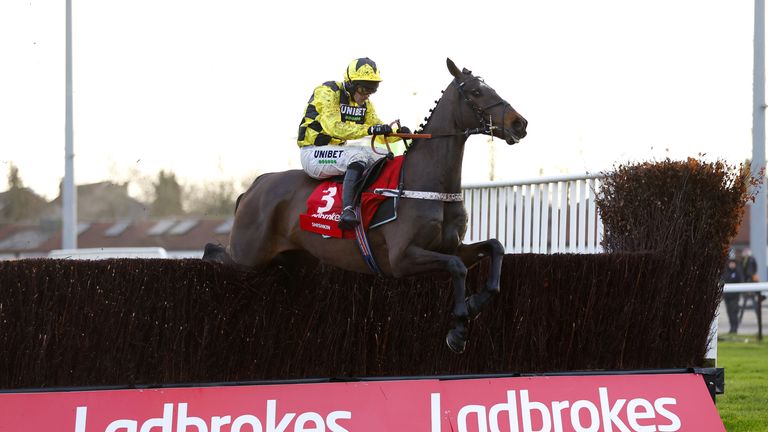 "Actually, he told me a week ago when he wasn't working very well.
"There was no way he could escape; he would stop and be ruined for life.
"We're not trying to fool anyone, we're just trying to get the horse where it needs to be. I'm afraid they have to believe it."
Bailey: We have to face Shishkin
Coach Kim Bailey Says First Flow Won't Scare Potential Encounter With Superstars Shishkin And Energumene

Reigning champion of Clarence House Chase, First Flow, will certainly be attending Ascot again this month.
Kim Bailey's 10-year-old takes a step back on the journey after winning over two and a half miles on the Grade Two Peterborough Chase at Huntingdon last month.
Bailey said Sky Sport Racing: "You have to challenge horses like Shishkin because there will only be two or three riders and we are competing for a decent prize pool. We have to go.
"First Flow loves Ascot and runs very well every time he goes, so he's there to try and keep his crown.
"If we end up finishing second behind Shishkin, we still ran a very good race.
"I really hope that when we get to Ascot it will be very heavy ground. He won it impressively last year when the ground was in his favor. If the terrain is in his favor, then he has to go there with every chance.
"The Peterborough Chase was a bit of a gamble and I didn't think we had to go for Tingle Creek while they talked about irrigation. It wouldn't be fast enough on good terrain around Sandown to keep up with those horses.
"He opened up other horizons for us but it doesn't make our work much easier because there aren't many races for him."