Chelsea produced a stunning first-half comeback to save a 2-2 draw against Liverpool as rivals Manchester City served up a Premier League classic that did little for both sides' title aspirations.
Liverpool seemed on track to emerge as the main challenger for the City crown thanks to goals from Sadio Mane, who escaped a red card in the first minute for a nudge on Cesar Azpilicueta, and Mohamed Salah saw the guests run in. two-goal lead and silence Stamford Bridge within the opening 26 minutes.
But Chelsea, who lost Romelu Lukaku's club record, produced a spirited comeback in the four-minute space of the first half as Mateo Kovacic's spectacular volley and Christian Pulisic's brilliant lob leveled the pulsating game at the stroke of the interval.
The platform was there for both Chelsea and Liverpool to move forward and claim a win that would have taken away a piece of Manchester City's 11-point lead at the top of the table, but the inspired saves of Caoimhin Kelleher and Edouard Mendy ensured the shared loot. .
The result means Chelsea remain second, 10 points behind leaders City, and one point and one place ahead of third-placed Liverpool, who have played one game fewer than their title rivals.
Player ratings
Chelsea: Mendy (8), Chalobah (5), Silva (7), Rudiger (6), Azpilicueta (6), Kante (7), Kovacic (8), Alonso (6), Mount (7), Pulisic (8), Havertz (7).
Subtitles: Jorginho (6), Hudson-Odoi (5).
Liverpool: Kelleher (7), Alexander-Arnold (7), Konate (7), Van Dijk (7), Tsimikas (6), Henderson (6), Fabinho (6), Milner (6), Salah (8), Jota ( 7), Mane (8).
Subtitles: Keita (6), Oxlade-Chamberlain (6), Jones (n / a).

Man of the match: Mateo Kovacic
Advantage City after the Stamford Bridge thriller
The second hosted the third at Stamford Bridge, with the title of Manchester City's Premier League main challengers crowning the prize for the winners.
Chelsea, keen to make sure striker Lukaku's obvious omission would not derail their challenge, started as a possessed side, shutting Liverpool into their defensive third from the start.
Liverpool's bid, meanwhile, could have been derailed within 15 seconds had Mane been shown red and not yellow for taking Chelsea captain Azpilicueta in the face with an elbow forward.
It would only take another eight minutes for Mane to take full advantage of referee Anthony Taylor's merciful truce as he pounces on Trevor Chalobah's bad defensive header, bypasses Chelsea goalkeeper Mendy and puts Liverpool ahead in the early stages.
Team news
Romelu Lukaku was eliminated from the Chelsea squad and N'Golo Kante, Kai Havertz, Thiago Silva, Trevor Chalobah and Marcos Alonso returned while Thomas Tuchel made five changes from 1-1 with Brighton.
Goalkeeper Caoimhin Kelleher, Ibrahima Konate and James Milner started as Chelsea made three changes since losing to Leicester.
Chelsea recovered but was unsuccessful and were down by two after 26 minutes. Kai Havertz's inability to hold back the game led to him being dispossessed and Trent Alexander-Arnold pitched a pass up to Salah, who effortlessly jumped around Marcos Alonso before producing a foolproof finish at Mendy's near post.
Chelsea were thrilled and on the verge of seeing the game slip away from them, with the hosts indebted for a goal-saving challenge from Chalobah, who atoned for his previous mistake by preventing Salah from adding a third on the counter and putting out of sight Liverpool.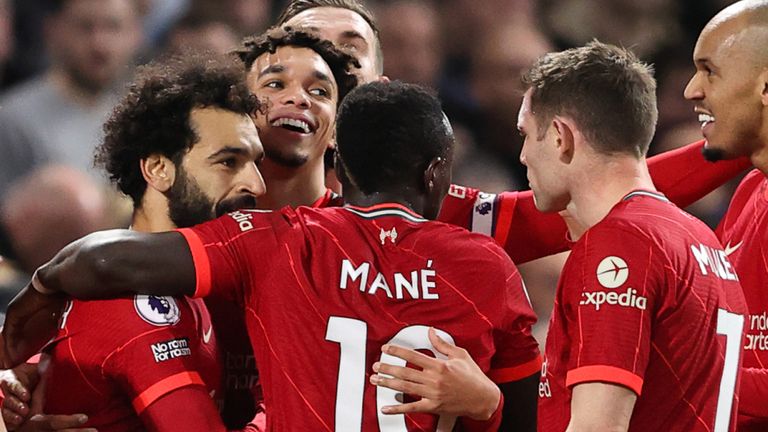 But, just as Chelsea seemed short of ideas, a lifeline was provided thanks to a bolt from the blue from Kovacic, whose precise volley from the edge of the area deflected away from Liverpool substitute goalkeeper Kelleher. before hitting the post.
With Chelsea's hopes on the pitch, the hosts completed the most exciting of comebacks before halftime, with N'Golo Kante hooking a pass behind the Liverpool defense that Pulisic clung to before launch on Kelleher and unleash wild cheers inside Stamford Bridge.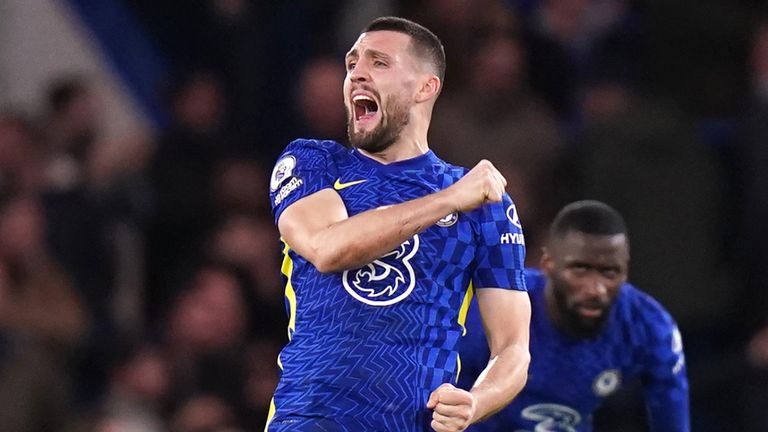 Having tried to reach range in control, it was Liverpool calling for the referee's whistle, with a rampant Chelsea denying a third of rapid-fire as Mason Mount sent a volley that flowed inches deep. in the recovery time of the first half.
Liverpool regrouped during the interval and created three clear chances to restore their lead, but found Mendy in inspired form. The Chelsea goalkeeper countered a fine volley from Diogo Jota within seven minutes of the second half, and then reacted brilliantly to overturn Salah's lob attempt after the Liverpool forward spotted him out of his line, before Mane was denied a second at the end of a slide. -touch move involving Salah and James Milner.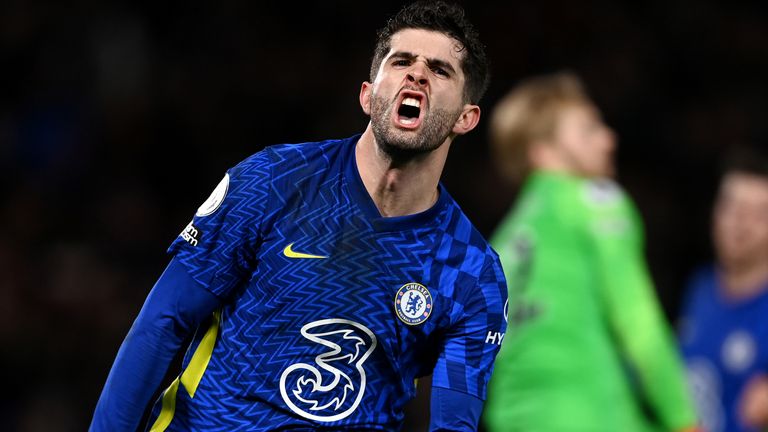 Anything Mendy could do, Kelleher could do better, with the Liverpool stopper producing a stunning point blank save to prevent Pulisic's hooked effort from finding the net soon after the hour, and it turned out to be the opening. clear final of a Premier League Classic, which may have just sent the title back to Manchester.
What the managers said …
Thomas Tuchel was full of praise for his side drawing 2-2 against Liverpool but felt that Sadio Mane should have seen red in the first seconds of the match following a challenge on Cesar Azpilicueta.

Chelsea manager Thomas Tuchel: "Beautiful football match, everyone who wasn't at the stadium lost something, energy, some mistakes. We started very well and we were 1-0 down from nothing because we made two or three big mistakes, then we suffer a second one. which makes the task very difficult.
The team did not give up and Mateo Kovacic's goal restored confidence in the stadium. In the first half there was an almost perfect comeback with a third goal at the substitution.
"Good goals, right? The first was absolutely brilliant but the second was also difficult. As a coach he was of a high level and he was at the limit, he could go both ways. A good Sunday afternoon and a good new year."
Liverpool assistant manager Pepijn Lijnders reflects on their intense 2-2 draw against Chelsea but is disappointed to have thrown away a 2-goal lead.

Liverpool assistant Pep Lijnders: "We never get bored with us, eh? Never. We are very proud of the boys because they played a football match properly. We could have invented many excuses but we didn't, we attacked the game.
"It wasn't easy, Chelsea really tried to use the space we left, sometimes we couldn't make it. What I would have liked to see more was more control.
"The moments when we were quick in mind and were really connected, we switched sides, when we used the space they left, we were lethal. Coming here in the situation we are in is a really good point."
Azpilicueta: Mane elbow "light red"
The Super Sunday panel discusses whether Liverpool's Sadio Mane was lucky to avoid red for his challenge to Chelsea captain Cesar Azpilicueta.

Chelsea defender Cesar Azpilicueta on Sky Sport:
On Mane's admonition for a nudge in the first minute: "It's a light red. I don't care if it's five seconds into the game, it's the first action and it's a light red. He doesn't want to challenge, he doesn't see the ball with which he just wants to lead the elbow, I honestly don't understand it.
"We have made these kinds of decisions recently. The other day, we had two penalties where VAR was not used. It was a clear red card and we are making these decisions against us that could change the course of the matches."
Eight statistics
Liverpool's Mohamed Salah has scored four goals against Chelsea in the Premier League, the most goals a player has scored against them after playing for them in the competition, alongside Kevin De Bruyne.
Only 245 seconds elapsed between Chelsea's two first-half goals scored by Mateo Kovacic and Christian Pulisic, which saw the Blues nullify Liverpool's two-goal lead at the start of the interval (2-2 at half-time).
Liverpool's Sadio Mané received the first yellow card (15 seconds) ever recorded in a Premier League match (2006-07), following a foul on César Azpilicueta.
Man of the match – Mateo Kovacic
⭐️ Man of the match, @ChelseaFCby Mateo Kovacic
104 touches
60/75 steps completed
13/14 duels won
11x possession gained
2 shots – scored 2nd PL goal this season (only scored 1 PL goal in the previous 3 seasons) pic.twitter.com/xjehkbwm7f

– Sky Sports Status (@SkySportsStatto) January 2, 2022
What's next?
EFL Cup Live




Wednesday 5 January 19:00

Chelsea will host Tottenham on Wednesday at 7.45pm before Liverpool move to Arsenal on Thursday at 7.45pm in the Carabao Cup semi-finals – both live on Sky Sport Soccer.
EFL Cup Live




Thursday 6 January 19:00